Embrace the holiday spirit with our Peppermint Meltaways – a delightful combination of buttery goodness and refreshing peppermint magic. These festive cookies, adorned with a vibrant peppermint frosting and a sprinkle of crushed candies, are the perfect treat for your winter celebrations. Let's dive into the simple steps to create these mouthwatering delights!
Storage: Store your Peppermint Meltaways in an airtight container, ensuring they stay fresh and ready to be enjoyed whenever you crave a delightful seasonal treat.
Optional: Share the Joy! These cookies make for wonderful homemade gifts, spreading the warmth and sweetness of the season.
Tips for a Merry Baking Experience:
Crush peppermint candies by placing them in a sealed bag and gently using a rolling pin.
Adjust the intensity of peppermint flavor by adding more or less extract.
Have fun experimenting with different shapes and sizes for a personalized touch.
Conclusion:
Our Peppermint Meltaways are more than just cookies; they're a celebration of winter's joy. With each bite, experience the harmonious blend of buttery goodness and invigorating peppermint. Share these treats with loved ones, and let the magic of the season unfold.
Wishing You a Season of Sweetness and Joy!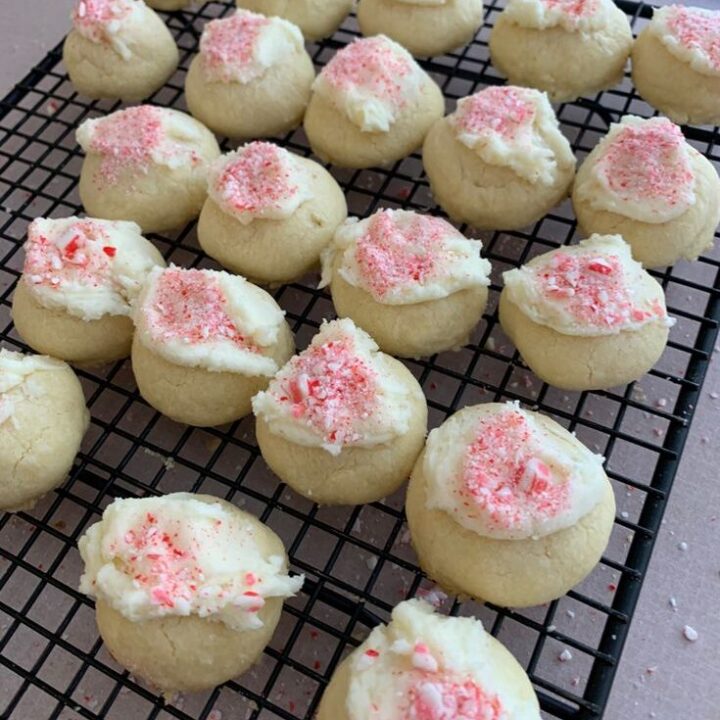 Peppermint Meltaways
Ingredients
For the Cookies:
1 cup butter, softened
1/2 cup confectioners' sugar
1/2 teaspoon peppermint extract
1-1/4 cups all-purpose flour
1/2 cup cornstarch
For the Frosting:
2 tablespoons butter, softened
2 tablespoons 2% milk
1/4 teaspoon peppermint extract
2 to 3 drops red food coloring (optional)
1-1/2 cups confectioners' sugar
1/2 cup crushed peppermint candies
Instructions
Creaming the Butter: In a small bowl, cream together softened butter and confectioners' sugar until light and fluffy. This should take around 3-4 minutes. Beat in the peppermint extract for that delightful hint of mint.
Creating the Dough: In another bowl, whisk together the all-purpose flour and cornstarch. Gradually beat this mixture into the creamed butter and sugar. Once combined, refrigerate the dough, covered, for 30 minutes or until it's firm enough to handle.
Shaping and Baking: Preheat your oven to 350°F. Shape the chilled dough into 1-inch balls and place them 2 inches apart on ungreased baking sheets. Bake for 9-11 minutes or until the bottoms are lightly browned. Transfer the cookies from the pans to wire racks to cool completely.
Preparing the Frosting: In a small bowl, beat softened butter until creamy. Add milk, peppermint extract, and red food coloring (if desired). Gradually beat in confectioners' sugar until the frosting is smooth and velvety.
Finishing Touches: Spread the luscious frosting over the cooled cookies. Sprinkle the tops with crushed peppermint candies, adding a burst of festive color and flavor.
Nutrition Information:
Amount Per Serving:
Calories:

0
Total Fat:

0g
Saturated Fat:

0g
Trans Fat:

0g
Unsaturated Fat:

0g
Cholesterol:

0mg
Sodium:

0mg
Carbohydrates:

0g
Fiber:

0g
Sugar:

0g
Protein:

0g