Prime Rib takes me back to all the meals we had at the country club, the brunches with a prime rib station, and holidays when someone felt brave and made a prime rib. The first time I made prime rib at home I was beyond nervous and almost talked myself out of it. I put so much pressure on myself and prepared for catastrophic failure, but it came out beautifully – I really should have more faith in myself! It does appear to be a daunting process, but it really is not and if I can do it, so can you.
My family gets so excited when I make prime rib and I love making it because it feels fancy, everyone loves it, and we do not have to wait for a "special" event to enjoy it. Also, now that I have made one several times, I am not as anxious as I was the first time.
I must say that there are two things that I cannot say enough; first, go talk to your local butcher (get recommendations if you don't know of one), and second, get an excellent quality meat thermometer. You can do this!
Notes:
• Before Purchasing Roast: When you are ready to purchase your roast, please find a local butcher, go see them, and talk with them. Tell them the full story of what you are planning so they understand the big picture. Let them know what you're trying to accomplish, how many people you're serving, etc. They will guide you and take the guesswork out.
• Levels of Doneness: Different areas of the finished prime rib will have different temperatures which means that those who like rare will be happy and those who will not eat pink will also be happy. Prime rib is a crowd pleaser in so many ways!
• Important Temperature Information: Determining when the prime rib is done is not difficult, but you must have a good meat thermometer – I cannot say this enough – the ideal level for prime rib is rare or medium rare. When you determine the level that you want to achieve, use the meat thermometer to monitor the internal temperature so you know when it has reached the appropriate temp. Always remember, you cannot un-cook the meat, but you can cook it longer if needed. Following are the internal temperatures to keep in mind.
For a rare roast: 115°F.
For medium rare: 120°F.
For a medium: 130°F.
• Cooking Time: Keep in mind that the actual cooking time will depend on the size and shape of the roast, if it is room temperature when it goes into the oven, and the particular oven you will use and how it heats. A flatter roast will cook more quickly than a thicker one. A chilled roast will take more time to cook than one that is at room temperature.
• Let the Roast Rest
Once the roast has reached the temperature you want, remove it from the oven and place it on a carving board. Cover it with foil and let it rest for 5-10 minutes before carving.
Print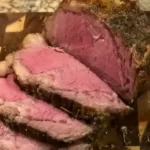 Perfect Prime Rib
---
1 Bone-in 4-rib prime rib roast (standing rib roast) – 8-10 lbs.
¼ cup unsalted butter, softened
1 Tbsp. freshly ground black pepper
kosher salt – to taste
---
Instructions
This step is imperative! 4-5 hours prior to cooking the prime rib roast, remove it from refrigeration; unwrap the roast from all packaging; place it on a plate; and allow it to come to room temperature.
When Roast is at Room Temperature
Preheat oven to 500° F and place your oven rack into the lower third of the oven.
Combine butter and pepper in a bowl; mix until well blended. Spread butter mixture evenly over entire roast. Season roast generously with kosher salt.
Lay the roast rib side down/fat side up into a rimmed roasting pan and insert a meat thermometer into the thickest portion, not touching any bone.
Place the prepared rib roast into the preheated 500° F oven, uncovered, and cook for 6 minutes per pound for medium rare.
 *As an example, a prime rib roast that weighs 10 lbs. would cook for 60 minutes at 500° F.) *
   **If your goal is a finished prime rib that's cooked to medium instead of medium rare, cook the rib roast for                 7 minutes per pound. **
When the timer sounds, immediately turn your oven temperature down to the lowest setting. On most ovens is 170° F but yours may be a different lowest temperature.
ONCE YOU DROP THE OVEN TEMPERATURE, DO NOT OPEN THE OVEN DOOR, AND MAKE SURE NO ONE ELSE OPENS THE OVEN DOOR. NO OPENING AT ALL. SERIOUSLY, PUT A LARGE SIGN ON THE OVEN.
Set your timer for 2 hours.
When the timer sounds at the full 2-hour mark, open the oven door, and look at the meat thermometer to check the internal temperature of the meat. For medium rare prime rib, you'll want the internal temperature to be 130° -135° F. YES,
AT THIS POINT YOU MAY OPEN THE OVEN DOOR.
 **If your roast temperature is a bit cooler than 130° -135° F, simply preheat your oven to 375° F., returning the roast to the oven until the internal temperature reaches 130° -135° F, checking the internal temperature every so often until the prime rib raises a few more degrees to the desired temperature.
When the proper temperature is achieved, snip the strings that are holding the bone rack to the prime rib roast (if it has string). Using big forks, lift the prime rib roast from the rib rack and the roasting pan, placing it onto a large cutting board.
Once the roast has reached the temperature you want, remove it from the oven and place it on a carving board.
Cover it with foil and let it rest for 5-10 minutes before carving.
Serving the Prime Rib
Slice the prime rib into thick slices, placing them on a platter or onto dinner plates. Pour a bit of the warm au jus over the prime rib. Serve at once.
Set out the au jus and a creamy horseradish sauce on the table for passing.
Keep a pan of simmering beef stock in case someone feels their prime rib needs more cooking.
THE AU JUS
¼ cup Pan drippings from prime rib
1 Tbsp. Butter
2 Tbsp. All-purpose Flour
3 Cups Beef Stock
1/2 tsp. Worcestershire sauce
Sea Salt, To Taste
Black Pepper, To Taste
Add the beef drippings and butter to a medium saucepan. Bring to a simmer over medium heat.
Sift the flour over the drippings/butter and whisk for 30-45 seconds.
Add 1 cup of beef stock and whisk to combine.
Slowly pour in the remaining beef stock while continuing to whisk.
Increase the heat to medium-high and add the Worcestershire sauce, whisk to combine.
Simmer for 4 minutes, allowing to reduce. Taste and add black pepper but only add salt if needed.