Rib eye steak, onions, peppers, and provolone cheese are all rolled up and cooked to crispy perfection in these Philly cheesesteak egg rolls. Insanely delicious and visually appealing, these are without a doubt the best game-day snack or appetizer!
If you enjoy Philly cheesesteak sandwiches, then you'll surely enjoy these egg rolls. They have the same delectable and savory ingredients packed into a crispy wrapper. The combo of cheese, beef and pepper will leave you continually craving for this snack, and who wouldn't? I make it a duty to prepare two batches whenever we have family over – one to share with family, and the other just for me when everyone is gone.
The amount of praise I receive, followed by daunting requests for more, after my family consumes this is testament to how good they are. Apart from family events, this is also a great game day snack, that'll keep your family activities fun. They're just the best!
Prep Time: 20 minutes
Cook Time: 15 minutes
Total Time: 35 minutes
Yield: 24 egg rolls
Print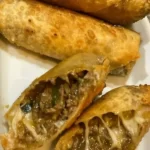 PHILLY CHEESESTEAK EGG ROLLS
---
1 ½ tablespoons butter
1 green bell pepper, chopped
1/2 cup onion, chopped
1 pound boneless rib eye steak sliced
Salt and pepper to taste
6 slices provolone cheese
12 egg roll wrappers
Oil for frying
Ranch for dipping optional
---
Instructions
Step 1:
In a large pan, melt half of the butter over medium high heat and add the peppers and onion. Allow to cook for about 3-4 minutes or until softened.
Step 2:
Remove the vegetables from the pan, cover to keep warm. Melt the other half of the butter and add the rib eye to the pan. Then add salt and pepper to taste.
Step 3:
Allow the steak to cook for 3-4 minutes or until browned. Place the peppers and onions back into the pan with the steak. Then lay out an egg roll wrapper and placing half of cheese slice in the center.
Step 4:
Put about 2-3 tablespoons of steak filling onto each egg roll wrapper and fold accordingly, then use water to seal the edges.
Step 5:
Heat the oil to 350 degree Fahrenheit, pour 2-3 inches of oil into a deep pan and fry about 3-4 egg rolls at a time, seldom turning for about 3-5 minutes or until it is all brown.
Step 6:
Allow to drain on paper towels. You can serve with dipping sauce of your choice.
Notes
Tips:
You can decide to coat your egg rolls with cooking spray if you prefer to bake them, and bake at 425 degrees Fahrenheit for about 15-20 minutes or until it is browned.