Polish sausage along with sauerkraut along with potatoes is a fun German dish that's savory, sweet, and it's also quite simple. The beauty of this one as well is that it also doesn't even require you to sit there and watch it the whole time, you can just put it in the slow cooker, and let it works its magic.
Tips:
Should I make this all the time?
Not really. Because of how sugary this can be, and also how hearty the ingredients are, it can also be damaging if this is all you eat.
But if you want a nice, savory dish that works when you're in a pinch, and want to just let it sit while it cooks, then you're in luck, because this dish is a great option for that.
Does it really taste like sauerkraut?
Not really. This is something a lot of people don't like from it, but because of the other ingredients and spices, the flavor isn't as strong, so even those who don't really like it can learn to tolerate it, and it's something that makes everyone nice and happy.
Can I change the spice amounts?
Yes you can! In fact, this is encouraged because a lot of people don't like how strong sauerkraut is, and the might turn away even if you flavor it with the spices listed.
If you taste it about halfway through or smell it and you don't think you can tolerate this, then definitely change the spices, and you can adjust the amount of spices you use.
Alternatively, if you like sausage and potatoes, but not big on the kraut, reduce the amount used, but remember that the other ingredients do help with mellowing the flavor a little bit, so if you're worried about that, consider as well also just trying different spices, and see from there just what will happen to it after that.
Does the flavor change with this recipe?
It does. For some people, sauerkraut is really gross, and they refuse to eat it.. some people as well may not like the flavor and texture of this.
If you do want to reduce the flavor of this, consider adding more potatoes and meat so that it soaks up the flavor and helps make the dish a little bit better. That way, you will be able to make it so that it's not gross for everyone, but instead a fun, hearty dish that'll really knock the socks off those who like it.
Sauerkraut doesn't have to be gross and taste weird, but instead, it's something that you can enjoy, and it's something that really makes it shine in ways that are different from other types of dishes.
Print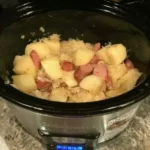 POLISH SAUSAGE, SAUERKRAUT AND POTATOES CROCKPOT
---
2 (14 ounce) cans sauerkraut, undrained (or 1 (2 pound) bag)
5 or 6 potatoes, peeled and cut into large chunks
1 cup water
1 pound Polish sausage, cut into chunks (could use smoked sausage)
1 teaspoon caraway seeds
1 bay leaf
1/4 teaspoon pepper
---
Instructions
Take the sauerkraut along with the potatoes and put it in the slow cooker
Place all of the spices in there, and then top this with the sausage
Cover this, cook it for 4 hours high temperature, or 6 hours on lower temperature, or until everything is tender