Praline Crunch is addicting! It is so delicious! Every bite is both sweet and salty. Crispix cereal, pecans brown Sugar, corn syrup, butter. Vanilla, baking soda. It is possible to make it ahead of time and store it in an airtight container. This makes a great gift idea, whether you're giving it as a gift at a party or making your own.
Praline Crunch should have warning labels. It's addictive! It was addictive and we couldn't stop eating it. We couldn't stop eating this delicious Praline Crunch. Each bite is a mouthwatering combination of sweet and salty.
Notes:
When making the brown sugar/corn syrup, use a large saucepan. When you add the baking soda, the mixture will bubble up.
Prep time: 10 minutes | Cook Time 1hr | Total time: 1 hour 10 minutes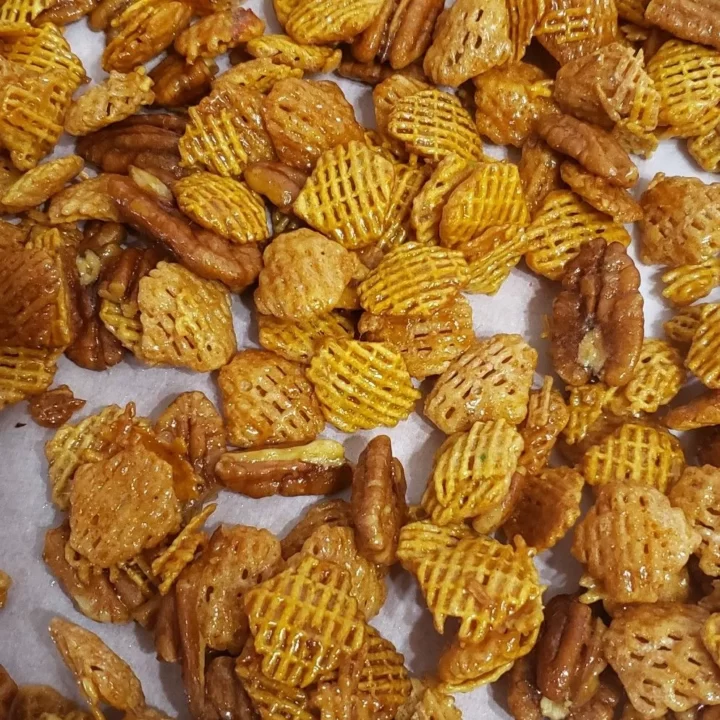 PRALINE CRUNCH SNACK MIX RECIPE
Ingredients
8 cups Crispix cereal
2 cups pecan halves (preferably salted)
1/2 cup brown sugar, packed
1/2 cup corn syrup
1/2 cup butter
1 teaspoon vanilla extract
1/2 teaspoon baking soda
Instructions
Preparation:
Preheat your oven to 250°F (120°C).
Line a 9x13-inch pan with wax or parchment paper.
Prepare Cereal and Pecans:
In a large bowl, combine the Crispix cereal and pecan halves.
Prepare Praline Sauce:
In a large saucepan over medium-high heat, combine the brown sugar, corn syrup, and butter.
Bring the mixture to a boil, stirring occasionally to ensure everything is well combined.
Remove the saucepan from the heat and stir in the vanilla extract and baking soda. Be cautious as the mixture will bubble up when you add the baking soda.
Coat Cereal Mixture:
Pour the praline sauce over the cereal and pecans, tossing gently to coat the mixture evenly. Ensure all pieces are well coated.
Bake:
Transfer the coated cereal mixture into the prepared pan.
Bake for 1 hour, stirring every 20 minutes. This helps to ensure that the praline coating is evenly distributed over the cereal.
Cool and Break into Pieces:
After baking, pour the mixture onto wax or parchment paper to cool.
Once cooled, break the praline crunch into pieces of your desired size.
Enjoy:
Your homemade praline crunch is ready to be enjoyed as a delightful snack or dessert!
Nutrition Information:
Amount Per Serving:
Calories:

0
Total Fat:

0g
Saturated Fat:

0g
Trans Fat:

0g
Unsaturated Fat:

0g
Cholesterol:

0mg
Sodium:

0mg
Carbohydrates:

0g
Fiber:

0g
Sugar:

0g
Protein:

0g