Indulge in the delectable and elegant treat of Puff Pastry Cream Horns. These flaky, golden horns filled with a luscious cream filling are a delight for the senses. Whether you're hosting a special occasion or simply craving a sweet treat, these pastry horns are sure to impress. Join us as we explore the recipe, step-by-step instructions, and some commonly asked questions to help you perfect this delightful dessert.
Print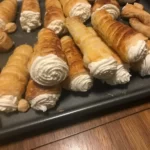 PUFF PASTRY CREAM HORNS
---
Description
Italian Cream Horns are delicious puff pastries wrapped around a brass horn and cooked till golden and flaky. You can fill this five-ingredient treat with whipped cream, custard, or buttercream icing.
---
1 egg
1 sheet frozen puff pastry, thawed
½ c. divided Imperial Sugar Confectioners Powdered Sugar
1 tsp vanilla extract
1 c. heavy cream
---
Instructions
Step 1: Ready 8 cream horn metal cones or metal cannoli forms. Grease and set aside.
Step 2: Cut the puff pastry into half-inch wide strips using a knife or rolling cutter. Wrap the pastry around the cone, beginning at one end, overlapping the layers, and covering the form in a spiral. Tent and place in the freezer for about 30 minutes.
Step 3: Prepare the oven and preheat it to 400 degrees F.
Step 4: To make the egg wash, whisk the egg with 1 tbsp water. With the egg wash, brush the puff pastry and sprinkle with about 3 tbsp of powdered sugar. On a baking pan lined with parchment paper, place the puff pastry, seam-side down.
Step 5: Place in the preheated oven and bake for about 20 minutes or until golden brown. Transfer to metal forms and cool.
Step 6: In the meantime, prep the filling. Beat the heavy cream until soft peaks. Next, add the rest of the confectioner's sugar and vanilla. Beat again until the filling is stiff.
Step 7: Into a piping bag, transfer the cream. Into the cold pastry, pipe the cream.
Step 8: Place the puff pastry cream horns in the fridge to set.
Notes
No cream horn molds? A foil-wrapped sugar ice cream cone will work in a pinch.
Serve these puff pastry cream horns plain. I like topping them off with some fruit preserves, chocolate ganache, whiskey caramel sauce, or cinnamon sugar for a delectable treat!
FAQ – Frequently Asked Questions:
Q: Can I make the pastry horns in advance?
A: Absolutely! You can bake the pastry horns in advance and store them in an airtight container at room temperature for up to 2 days. Fill them with the cream filling just before serving to ensure they maintain their crispness.
Q: Can I use store-bought whipped cream instead of making my own?
A: Yes, you can use store-bought whipped cream as a time-saving option. However, homemade whipped cream adds a fresh and rich flavor to the cream horns. If using store-bought, follow the package instructions for best results.
Q: Can I freeze the filled cream horns?
A: While it's possible to freeze the filled cream horns, it's not recommended as the pastry may lose its crispness and the cream may become watery upon thawing. It's best to enjoy them fresh or refrigerate them for a few hours before serving.
Q: Can I add flavor variations to the cream filling?
A: Absolutely! You can experiment with different flavors to customize the cream filling. Try adding a hint of almond extract, a tablespoon of cocoa powder for a chocolate twist, or even a teaspoon of your favorite flavored extract like lemon or orange for a citrusy touch.
Q: Can I make mini-sized cream horns?
A: Yes! If you prefer bite-sized treats, you can cut the puff pastry into smaller strips and use smaller cream horn molds. Adjust the baking time accordingly, as mini cream horns may require less time in the oven.