This five ingredient chicken-based dish is the definition of elegance in simplicity. Luckily, all it takes is 10 minutes to whip up this delicious delight, because you'll be making this a lot after trying it out the first time.
Ranch chicken wraps are just perfect! It's not just how delicious they taste really, but how easy it is to make them. In just 10 minute, my office lunch is prepared and ready to go.
Sometimes, I take two of these to work just to share with any lucky coworker. They love it, probably more than I do. This recipe saves me from spending on cafeteria food and has become very dear to me.
Chicken and ranch dressing wrapped up is easy to eat with the hands. Not needing silverware means that you can dig in predatorily into this.
I occasionally pack this for my kids and oh the excitement! You have to be careful when eating this though, because you might get splattered with creamy ranch dressing. But that's half the fun, isn't it?
This recipe has easily become one of my favorite, and I can't even describe how awesome the taste is. You just have to taste it to know it.
Tips and variations:
Use prepared rotisserie chicken, leftover chicken, or grilled chicken seasoned with your favorite spices for the chicken. I season my chicken with a spoonful of fajita seasoning and allow to cook for 5-6 minutes per side in a hot pan.
Prep Time: 5 minutes
Cook Time: 5 minutes
Total Time: 10 minutes
Servings: 4 servings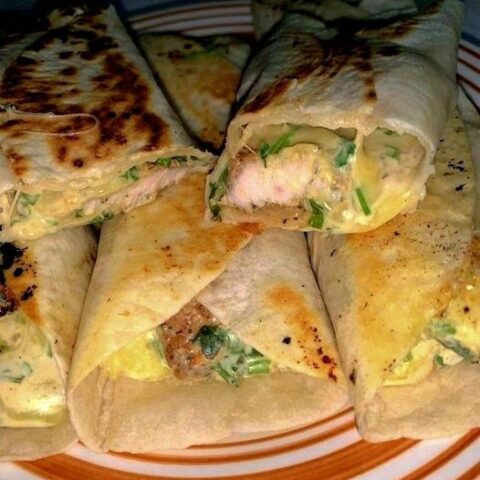 RANCH CHICKEN WRAPS
Ingredients
2 cups cooked grilled chicken breasts, chopped
¼ cup Hidden Valley® Simply Ranch dressing
1/2 cup mozzarella cheese
1/4 cup cilantro minced, optional
4 8 " tortillas
Instructions
Step 1:To make the tortillas, place them on a clean, flat table. On each tortilla, layer 1/2 cup chicken, 1 tablespoon ranch, 2 tablespoons cheese, and 1 tablespoon minced cilantro. To make a burrito, fold the paper tightly.
Step 2:Preheat a heavy-duty skillet or grill to medium. Coat wraps with a little coating of oil or cooking spray and heat for 1-2 minutes on each side, or until crispy and brown. Remove from the heat, cut in half, and serve right away.
Nutrition Information:
Amount Per Serving:
Calories:

0
Total Fat:

0g
Saturated Fat:

0g
Trans Fat:

0g
Unsaturated Fat:

0g
Cholesterol:

0mg
Sodium:

0mg
Carbohydrates:

0g
Fiber:

0g
Sugar:

0g
Protein:

0g