I love casseroles that have flavors that blend perfectly and have perfect crispy edges and a savory, creamy filling. My family loves this casserole despite not being big on casseroles. I love it for how easy it is, how delicious it is, its versatility, and how it is consistently fabulous. I make this recipe about once a week – I like to switch some ingredients to add flair and I always add fresh herbs: fresh parsley, thyme, basil, oregano, and chives all go perfectly.
This will become a family favorite for you as well. You can also make one ahead of time, freeze it, and easily reheat. I seek recipes that will take a bit of stress off me and that my family will enjoy. This is one of those savior recipes!
Enjoy!
Notes:
• Chicken: You need about 4 cups of cooked, shredded chicken. If you are short on time, a store-bought rotisserie chicken is perfect, saves time, and has great flavor. However, making chicken breasts at home doesn't take long either so it is entirely up to you! If you prefer to cook your chicken at home, use about 2 lbs. of raw boneless, skinless chicken breast or thighs. Boil the chicken for about 15-20 minutes, or until cooked through. When cool enough to handle, chop or shred with forks and use in the recipe.
• Condensed Cream Soup: Cream of mushroom soup and cream of chicken soup: form the base of the creamy casserole sauce. You can substitute with two cans of your favorite flavors of condensed soup. The "Healthy Request" line is really great, but any similar variety will work.
• Stuffing: Pepperidge Farm Herb Seasoned Stuffing Mix, Stove Top Stuffing, or your favorite equivalent will work well.
• This is a great make-ahead dinner: You can assemble the casserole up to 24 hours in advance and keep it covered in the refrigerator until ready to bake. When ready to bake, allow the dish to sit on the counter and come to room temperature for at least 30-60 minutes.
• Leftover casserole: Wrapped in plastic wrap, this will keep in the refrigerator for 3-4 days.
• Freeze leftovers: Cool casserole completely and transfer to an airtight container for up to 3 months.
• To Reheat the Casserole: If reheating an entire casserole, cover the dish loosely with foil and bake in a 350° F oven until warmed through (about 20 minutes). Individual portions can be reheated in the microwave for 1-2 minutes. Thaw a frozen casserole in the refrigerator overnight and bake according to the recipe instructions. If the dish is still cool when it goes into the oven, you will likely need to increase the total baking time.
Print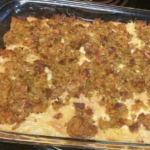 ROTISSERIE CHICKEN AND STUFFING CASSEROLE
---
4 cups cooked, shredded chicken (rotisserie is great!)
1 (10.5 ounce) can cream of mushroom soup
1 (10.5 ounce) can cream of chicken soup
1 cup milk
1 stick (8 tablespoons) butter, melted
1 (8 ounce) package (about 3 ¾ cups) dry stuffing mix (I used Pepperidge Farm Herb Seasoned Stuffing Mix)
---
Instructions
Preheat oven to 350°F.
Grease a 9×13-inch baking dish – set aside.
In a large bowl, whisk together both condensed soups and milk. Stir in cooked chicken.
Transfer chicken mixture to the prepared baking dish.
In a separate bowl, pour melted butter over the dry stuffing mix. Gently stir until all of the stuffing mix is coated with butter. Sprinkle the buttered crumbs over the chicken mixture.
Cover the dish with foil. Bake, covered, at 350°F for about 20 minutes.
Remove foil and bake for an additional 10-15 minutes, or until heated through and browned on top.