Salami and cream cheese roll up is a delicious recipe, sweet and mouth watering, made with cream cheese, salami, baby capers, parsley and crackers to make a fine and perfect meal.
This Salami Cream Cheese Roll Up is a terrific low-cost party meal for a large group! Quick to prepare, prepare ahead of time, transportable, and requires no tedious assembly. You'll also appreciate how innovative and simple this Salami Cream Cheese Roll Up is to make!
The first time I tried this recipe, I felt like I was doing the wrong thing, but alas, it turned out good. My husband loves this meal, as there is no cooking time for it.  My husband and I work in the same company and we get home very late, and we will both be tired from entering the kitchen and preparing dinner. He just goes to the kitchen, prepares this meal and in just 10 minutes, we are done, having our dinner.
It has become our dinner routine and I love it.  When I stopped working after I had my first child, it has always been a routine for my family to have this recipe as dinner, it has no cooking time, you have to wait for it to chill and you are good to go. You can serve this recipe anywhere and at any time. Kids also love this recipe, you can serve it as a menu for your kid's birthday party.
Tips and variations:
In Australia, I used the enormous round salami that can be found in delis and supermarkets. It's more manageable than little salami rounds. I used spicy salami!
This step can easily be completed using your hands and an unopened can. If you don't have a rolling pin, you can make it with slightly melted cream cheese.
Prep time: 10 minutes
Cook time: 0 minutes
Total time: 10 minutes
Servings: 25 pieces
Print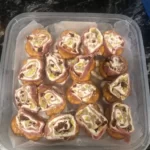 Salami and Cream Cheese Roll up
---
250 g / 8 oz cream cheese
180 g/ 6 oz sliced large salami
¼ cup baby capers , drained
2 tbsp finely chopped parsley or basil
Crackers , to serve
---
Instructions
Step 1:
Place the cold cream cheese on a large piece of cling wrap. Then cover with another piece of cling wrap.
Step 2:
Use a rolling pin to roll it into a rectangle and peel off the cling wrap. Then cover with salami, slightly overlapping.
Step 3:
Cover the salami with a new piece of cling wrap, and press down then turn over so the cream cheese side is up.
Step 4:
Peel cling wrap off to expose cream cheese, and sprinkle with capers and parsley. Then roll up, starting from the long edge, and removing the cling wrap as you go, and roll firmly to avoid air bubbles.
Step 5:
Once rolled, wrap with the same cling wrap, twist the ends and refrigerate for about 4 hours or more, then unwrap from cling wrap.
Step 6:
Slice into rounds. Serve with crackers.
Notes
Nutritional facts
Serving: 16g, Calories: 45cal (2%)