Start your day with a satisfying and flavorful breakfast by indulging in a delicious Sausage Hashbrown Breakfast Casserole. This easy-to-make casserole combines savory sausage, crispy hashbrowns, eggs, and cheese, resulting in a hearty and comforting dish that's perfect for feeding a crowd or meal prepping for busy mornings. Join us as we explore the recipe, step-by-step instructions, and address some commonly asked questions to help you create a memorable breakfast experience.
Prep Time: 5 mins | Cook Time: 1 hr | Total Time: 1 hr 5 mins | Servings: 12 people
Print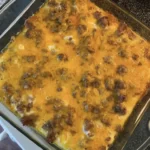 SAUSAGE HASHBROWN BREAKFAST CASSEROLE
---
Description
Hearty, filling, and the perfect dish to start your mornings. Easily throw this Sausage Hash brown Breakfast Casserole together with this easy recipe using your favorite breakfast staple. You can even prep this casserole the night before and bake it the next day. Also, this casserole recipe is pretty versatile. You can use any cheese or swap the pork sausage with either ham, turkey sausage, bacon, or beef.
---
1 lb pork sausage jimmy dean
8 eggs
1 ½ c. whole milk or heavy cream
1 teaspoon black pepper
2 c. cheddar cheese
1 ½ teaspoons salt
¼ teaspoon garlic powder
1 package 30 ounces bag frozen shredded hash browns thawed out
---
Instructions
Step 1: Prepare the oven. Preheat it to 375 degrees. Using non-stick cooking spray, grease a 9 x 13-inch pan.
Step 2: In a skillet over medium heat, cook the pork sausage until brown, breaking the pork into chunks as it cooks. Then, drain the excess grease and set the pork sausage aside.
Step 3: Beat the eggs with heavy cream and all spices until blended.
Step 4: In the prepared casserole dish, layer the thawed hash browns followed by the pre-cooked sausage, then top with cheese and pour the whisked egg mixture on top.
Step 5: Using foil, cover the baking dish and place it in the preheated oven. Bake the casserole for about 40 minutes. Uncover and continue baking for additional 20 minutes.
Step 6: Remove from the oven when done and serve the casserole right away with Franks Hot Sauce or Chunky Salsa. Enjoy!
Notes
You can prep this casserole the night before and bake it the next day.
You can swap hash browns with tater tots.
For this recipe, you are welcome to use any cheese.
If needed, substitute heavy cream with milk.
You can use ham, bacon, turkey sausage, or Italian sausage in place of pork sausage.
Nutrition Facts:
Serving: 1g, Calories: 293 kcal, Carbohydrates: 4g, Protein: 17g, Fat: 23g, Saturated Fat: 9g, Polyunsaturated Fat: 12g, Cholesterol: 183mg, Sodium: 818mg, Sugar: 2g
AQ – Frequently Asked Questions:
Q: Can I make this casserole ahead of time?
A: Absolutely! This breakfast casserole is perfect for meal prep. You can assemble the casserole the night before, cover it tightly, and refrigerate overnight. In the morning, simply preheat the oven and bake it as instructed. It's a convenient option for busy mornings or when hosting brunch.
Q: Can I customize the ingredients in the casserole?
A: Certainly! This recipe serves as a base, but you can customize it to your liking. Feel free to add other vegetables like spinach, mushrooms, or diced tomatoes. You can also experiment with different types of cheese or swap the sausage for bacon or ham.
Q: Can I freeze the casserole for later use?
A: Yes! This casserole freezes well. After baking and cooling, slice the casserole into individual portions. Wrap each portion tightly in plastic wrap or aluminum foil, and place them in a freezer-safe bag or container. When ready to enjoy, thaw the portion in the refrigerator overnight, then reheat it in the microwave or oven.