This is one of the fastest salads to make but it does not look or taste like you just threw it together! I love seafood salad but my husband love, loves it. When I made this recipe, he ate nearly all of it and then asked if I would make more. He is lucky that it is easy to make!
I love the freshness that the lemon juice and fresh dill add. When I cannot find fresh dill, I use dried dill and it is still incredibly delicious. Old Bay seasoning also makes it stand apart from others and you really need that unique flavor profile. In case you cannot find Old Bay, check the Notes for something that is comparable.
For those who like seafood salad, this will be the one they rave about and will want your recipe. Also, you may want to double the recipe if someone in your house has a serious love for seafood salad.
Enjoy!
Notes:
* Old Bay seasoning is unique, and no other seasoning matches it well. – at least to my knowledge. It is usually easy to find but if you cannot find any, you can make a spice mixture that is very close. There are 18 ingredients in Old Bay and the full list is a secret so… you do the best you can! The recipe calls for 1/2 tsp. and the following mix makes about 1/4 cup. All you need is an airtight container for storing it and I think you will find that you will use it!
SEASONING SIMILAR TO OLD BAY (I don't think anyone has figured out what the 2 unknown ingredients are!)
3/4 Tbsp. salt
1 Tbsp. celery seed
2 tsp. sweet paprika
1 tsp. ground dry mustard
1 tsp. ground ginger
5 bay leaves
1/2 tsp. smoked paprika
1/2 tsp. freshly ground black pepper
1/2 tsp. freshly ground white pepper
1/4 tsp. crushed red pepper flakes
1/8 tsp. ground nutmeg
1/8 tsp. ground mace
1/8 tsp. ground cardamom
1/8 tsp. ground allspice
1/8 tsp. ground cinnamon
1/16 tsp. ground cloves
MIX ALL INGREDIENTS TOGETHER AND GRIND IN A SPICE GRINDER OR COFFEE GRINDER UNTIL IT IS A SMOOTH POWDER. *Store in an airtight container/spice jar.*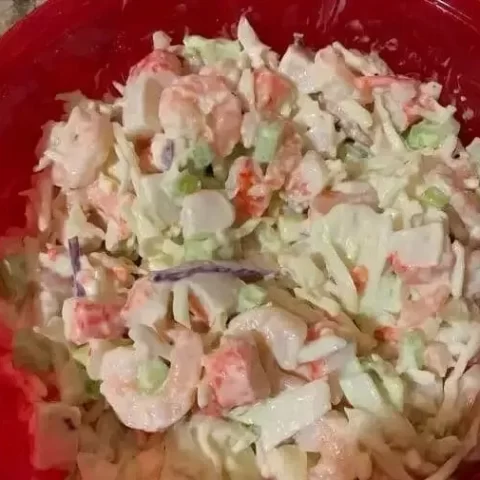 SEAFOOD SALAD
Ingredients
16 oz. imitation crab meat (preferably flaked style)
1/2 cup celery – finely diced
3 Tbsp. red onion – very finely diced
1/2 tsp. Old Bay seasoning
2 tsp. fresh lemon juice
1/2 cup mayonnaise
1 1/2 Tbsp. fresh dill – chopped (or 1/2 tsp. dried dill)
salt & pepper – to taste
Instructions
In a large bowl, place the imitation crab, celery, red onion, Old Bay, lemon juice, mayonnaise, dill, salt, and pepper.
Toss gently to coat.
Either serve immediately or cover and refrigerate. Salad will keep in the fridge for up to 2 days.
How you serve this is the big question! We love piling it on a crusty baguette with lettuce or eating it with crackers. Other ideas to consider:
Scoop into a butter lettuce cup
Add pasta for a seafood pasta salad (chilled)
Bake puff pastry shells and fill with seafood salad
Hollow out a tomato and fill it with seafood salad.
Nutrition Information:
Amount Per Serving:
Calories:

0
Total Fat:

0g
Saturated Fat:

0g
Trans Fat:

0g
Unsaturated Fat:

0g
Cholesterol:

0mg
Sodium:

0mg
Carbohydrates:

0g
Fiber:

0g
Sugar:

0g
Protein:

0g