Do you like pork tenderloin?
You're not alone!
This simmering, amazing dish is perfect for when you want something easy for dinner, but you have no idea what to make.
It's a hearty, meaty dish, and many times, pork tenderloin offers a lot of meals for how staggering the size is, saving you money and time when you decide to cook. How do you make them though?
This is a heavy meat, so it takes proper preparation, but in this, we'll go over how you can put together the best pork tenderloins possible.
Notes:
If you're a fan of these roasts, you're not alone.
They're convenient, simple, and they're perfect for if you want to have multiple dinners.
The best side items to go with this include either a nice salad, some potatoes or even some rice, depending on the type of dinner you want to make.
You can also save the pork roast for later. Putting this in the fridge, and then warming it up again is a great way to cook this. The cool part of this, is that it works well when you reheat it.
If you want to make the meat a little bit more tender, you can always slow cook this too. But this does require you to be sitting there letting the meat slow cook for hours, and does require more of the marinade on it, so be mindful of that when you do this.
This pork tenderloin is the perfect dinner if you want something simple, and if you want to make something that will knock the socks off of your dinner guests no matter who they might be, and what kinds of foods they're into.
Print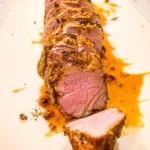 Simmering Pork Tenderloins
---
1 package of pork tenderloins (2 tenderloins total about 2-2.5lbs)
4 garlic cloves, quartered/sliced/slivered
1/4 cup soy sauce
2 tablespoon country Dijon mustard (whole grain mustard)
4 tablespoon honey
2 tablespoon fresh orange juice
1 tablespoon finely chopped fresh rosemary or Herbs de Provence
freshly ground pepper, to taste
3 tablespoon olive oil
---
Instructions
Preheat the oven to 350
Take the tenderloins out of there and then rinse them, patting them dry
Spray a baking dish, put the tenderloins in there.
Use a knife to poke the holes along the sides and top of this, about an inch or so deep, adding garlic to every single hole that's there.
From there, add the marinade next, whisking together all of the ingredients but the olive oil. Slowly add the oil while you whisk it after the first time.
Make sure to have it all thoroughly combined, but then, put the juices directly over the tenderloin, and then add the roast to the one, letting it sit there for about 40-50 minutes or until everything is cooked through.
When done, pull this out, and then let the meat sit for about 10 or so minutes before cutting into small 2-inch serving pieces
Serve this with your favorite side dishes and then enjoy!