This Chicken Broccoli Casserole is the epitome of comfort food. With tender pieces of cooked chicken, wholesome broccoli, and a creamy, flavorful sauce, this casserole is a crowd-pleaser. Topped with a golden layer of melted cheese and a crispy breadcrumb-parmesan crust, every bite is a delightful combination of textures and tastes. Perfect for family dinners or potluck gatherings, this casserole is sure to become a cherished favorite.
Why You'll Love This Recipe:
This Chicken Broccoli Casserole strikes the perfect balance between convenience and homemade goodness. Using simple ingredients, it delivers rich, hearty flavors that satisfy both kids and adults. The creamy sauce, paired with the crunch of breadcrumbs and the cheesy topping, elevates this dish to a gourmet level. Plus, it's a fantastic way to incorporate nutrient-rich broccoli into your meal.
Recipe Tips and Variations:
Cooking Chicken: Use leftover rotisserie chicken or quickly poach chicken breasts in chicken broth for added flavor.
Cheese Variation: Experiment with different types of cheese like sharp cheddar, mozzarella, or Monterey Jack for a unique twist.
Gluten-Free Option: Substitute gluten-free breadcrumbs or crushed gluten-free crackers for a gluten-free version of this casserole.
Adding Vegetables: Enhance the nutritional value by adding other vegetables such as sliced mushrooms, bell peppers, or cauliflower florets.
Why This Casserole Stands Out:
Creamy Goodness: The combination of reduced-fat cream of chicken soup, evaporated milk, and garlic powder creates a lusciously creamy sauce that blankets the chicken and broccoli.
Crunchy Contrast: The breadcrumb and parmesan topping adds a satisfying crunch to each bite, enhancing the overall texture of the casserole.
Family-Friendly: Loved by both kids and adults, this casserole is a reliable go-to recipe for family gatherings or weeknight dinners.
What to Serve With This Casserole:
This Chicken Broccoli Casserole pairs wonderfully with a side of steamed rice, buttery mashed potatoes, or garlic-infused quinoa. For a wholesome meal, serve it alongside a fresh garden salad or steamed vegetables. A slice of warm, crusty bread or dinner rolls on the side completes the meal, allowing you to savor every bit of the delicious sauce.
Remember it later
Like this recipe! Pin it to your favorite board NOW!
Print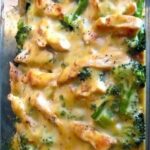 SKINNY CHICKEN BROCCOLI CASSEROLE
---
For the Casserole:
1 lb. cooked chicken, cut into bite-sized pieces
20 oz. frozen chopped broccoli, cooked and drained
2 cans of reduced-fat cream of chicken soup
2/3 cup evaporated milk
1/2 tsp. garlic powder
1 cup reduced-fat shredded cheddar cheese
For the Topping:
1/2 cup bread crumbs
3 tbsp. Parmesan cheese
---
Instructions
Preheat the oven to 350°F (175°C).
In a large mixing bowl, combine the cooked chicken and drained broccoli.
Add the reduced-fat cream of chicken soup, evaporated milk, and garlic powder to the mixing bowl. Stir until well combined.
Layering and Topping:
Grease a 9×13 baking dish.
Layer the chicken and broccoli mixture evenly in the bottom of the prepared baking dish.
Sprinkle the reduced-fat shredded cheddar cheese over the top, creating a generous cheese layer.
Creating the Crispy Topping:
In a separate bowl, combine the breadcrumbs and Parmesan cheese.
Sprinkle the breadcrumb mixture evenly over the casserole, covering the entire surface.
Baking and Serving:
Bake the casserole in the preheated oven for 30 minutes or until the top is golden and the casserole is bubbly.
Remove from the oven and let it sit for 10 minutes before serving. This allows the casserole to set, making it easier to portion and serve.
Serving and Enjoying:
Slice the Chicken Broccoli Casserole into portions and serve while warm.
Enjoy the delightful combination of creamy sauce, tender chicken, flavorful broccoli, and the satisfying crunch of the breadcrumb-parmesan topping.
Notes
This Chicken Broccoli Casserole brings together the goodness of comfort food with the ease of preparation. With its creamy texture, rich flavors, and satisfying crunch, it's a dish that satisfies both the palate and the soul. Whether served on special occasions or as a comforting weeknight meal, this casserole is bound to become a family favorite, offering a taste of home with every bite.
Remember it later
Like this recipe! Pin it to your favorite board NOW!