Slow Cooker Cheesy Kielbasa Hashbrown Casserole. This recipe effortlessly combines shredded hash browns, diced kielbasa sausage, onions, bell peppers, and a velvety cheese sauce.
Consider this dish the epitome of comfort cuisine, deserving of a place in your collection of heartwarming favorites! This versatile casserole can grace your table for dinner or brunch, seamlessly transitioning from morning to night with equal allure. Whether you're savoring it in the bright hours of morning or the cozy embrace of evening, this dish always delivers. I've personally relished it in both settings.
The slow cooker is your trusty ally in this culinary journey, requiring minimal effort to set up and initiate. This convenience makes it a true blessing on those bustling days or when the thought of warming up the entire house with the oven is less than appealing.
A delightful twist that my family adores (a variation I've employed multiple times) is substituting milk with sour cream. The sausage's remarkable flavor harmonizes splendidly with the rich creaminess of sour cream.
Beyond being a family favorite, this casserole also earns its merit as an exceptional potluck contribution or party dish. Its universal appeal guarantees that it will be a hit among the masses. In our social circle, we gather monthly for a potluck brunch with dear friends. Each time I present this recipe, it garners requests and accolades, vanishing from the serving platter without a trace.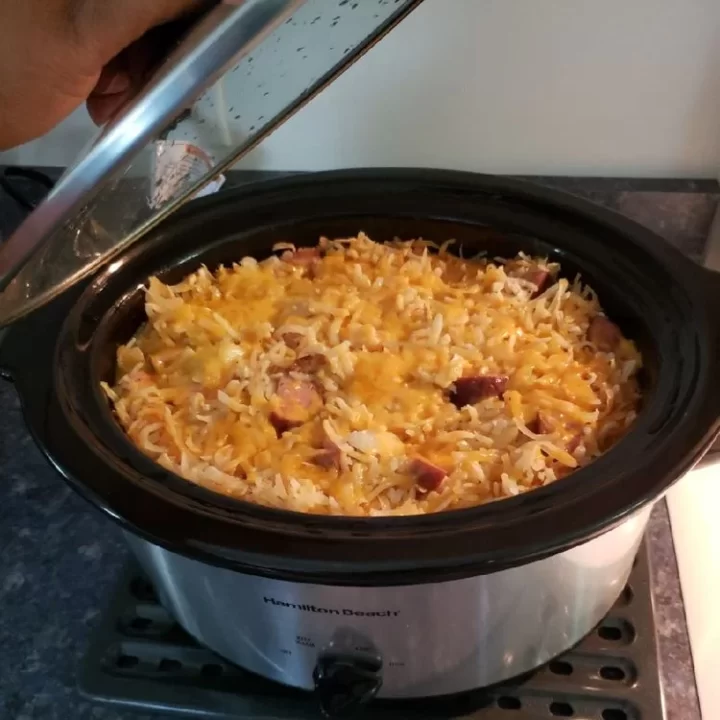 Slow Cooker Cheesy Kielbasa Hashbrown Casserole Dinner
Ingredients
1 32 oz. bag of hash browns – cubed or shredded and defrosted
14 – 16 oz. kielbasa sausage – thawed if frozen and cut into small pieces
1 small onion, diced
⅓ cup butter – melted
2½ – 3 cups shredded cheese (I used a mix of Monterey Jack and Cheddar)
10.5 oz. can cream of chicken
1 cup half and half or whole milk – preferably one of these for best consistency
Instructions
Combine hash browns, kielbasa, onion, and 2 cups of the cheese in a greased crock pot.
In a separate bowl, combine cream of chicken, butter, and milk. Pour over hash brown mix.
Sprinkle remaining cheese over top.
Cook on high for 3 hours.
Notes
• Storing: Cool completely and place in airtight container. Keep in fridge for up to 4 days.
• Freezing: Once cooled, either divide into individual servings in freezer containers or transfer it to an airtight container. Store up to 2 months.
• Reheating: Place the casserole in a baking dish and bake in a preheated oven at 350° F until hot. You can also place it back in the slow cooker in the morning and let it cook on low until heated through – it will be ready later in the day.
• Additions: Red Pepper flakes or a few dashes of your favorite hot sauce add a little spiciness.
Nutrition Information:
Amount Per Serving:
Calories:

0
Total Fat:

0g
Saturated Fat:

0g
Trans Fat:

0g
Unsaturated Fat:

0g
Cholesterol:

0mg
Sodium:

0mg
Carbohydrates:

0g
Fiber:

0g
Sugar:

0g
Protein:

0g