When my husband and I took a trip to New Orleans years ago, we fell in love with authentic jambalaya and upon returning home, I set out to learn how to make it and have it taste authentic. I also found the slow cooker worked just as well as the traditional method when preparing the dish which I find to be a great time-saver on days that I need to be able to leave it without fear of it burning on the stove.
My husband always knows when I am making Jambalaya when I am preparing the "holy trinity" – onion, celery, and green bell pepper! When using a slow cooker, the process is a bit different because you combine those vegetables with the garlic, sausage, chicken, tomatoes, and seasoning then let those cook before adding the shrimp. Nevertheless, the jambalaya turns out delicious and just as wonderful as traditionally prepared. If he didn't see me using the slow cooker, he would never know which method I used – that is the true test!
If you have avoided making jambalaya because of the time factor, check out the slow cooker method and I am sure you will be pleased!
Notes:
• Be sure to dice the vegetables so all are about the same size. They will cook at the same rate.
• Most Creole seasonings have salt so make sure to taste before adding more salt – it may not need any more.
• Creole Seasoning – Store in Airtight Container
2 tablespoons paprika
1 tablespoon kosher salt
1 tablespoon black pepper
1 tablespoon dried oregano
1 tablespoon dried basil
2 teaspoons granulated onion
2 teaspoons granulated garlic
2 teaspoons dried thyme
• Store: Cool the jambalaya and place in air-tight containers. Leftovers will keep in the fridge for 2 to 3 days. Beyond that, the shrimp start to really break down.
• Freeze: Jambalaya doesn't freeze particularly well. The combination of rice, shrimp, and sauce doesn't reheat easily without the shrimp becoming very rubbery.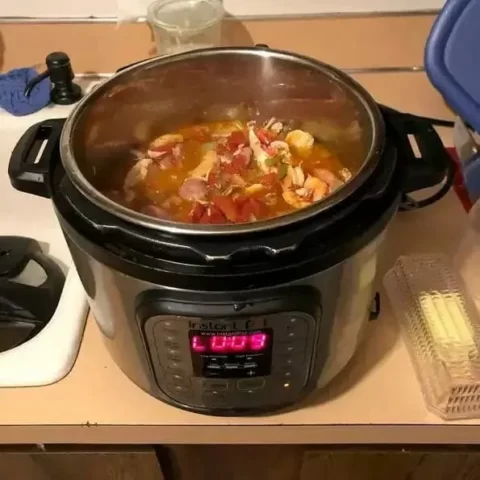 Slow Cooker Jambalaya
Ingredients
1 white onion, diced
3 ribs celery, diced
1 green bell pepper, diced
3 cloves garlic, diced
1 lb. andouille sausage, sliced about ¼ inch
1 lb. boneless chicken breasts and/or thighs, cut into bite-sized pieces
1 (28-ounce) can diced tomatoes
1 Tbsp. dried oregano
2 bay leaves
1 to 2 Tbsp. Creole seasoning (I use Tony Chachere Creole Seasoning)
          **
1 lb. large shrimp, shell on, thawed
1 cup long grain white rice
½ tsp. salt, or to taste
1/2 tsp. black pepper, or to taste
Fresh parsley, chopped, for garnish
Instructions
Begin the Slow Cook:
Add the onion, celery, bell pepper, garlic, andouille sausage, chicken, tomatoes, oregano, bay leaves, and Creole seasoning to a large slow cooker. Stir together well.
Cook on high for 3 hours or on low for 4 to 5 hours.
You are ready to move onto the next step when the veggies are very tender, and the chicken is cooked through, and you can pull it easily apart.
Add the Shrimp:
Leave the shells on the shrimp but use kitchen shears to cut up the backs; this will make them easier to peel later.
Add the shrimp to the slow cooker. Stir, cover, and cook on high for another 30 to 45 minutes until the shrimp is cooked through.
Cook the Rice:
While the shrimp cooks, cook the rice according to the package directions.
When done, set the rice aside, covered, until ready to serve. (This makes about 4 cups of cooked rice.)
Taste and Season:
Remove bay leaves from the jambalaya and taste.
Season with salt and pepper to taste and garnish with fresh chopped parsley.
Either peel the shells off the shrimp now or serve with the shells on and tell others to remove the shells as they eat.
Serve:
Stir the cooked rice into the jambalaya or serve the jambalaya ladled over top the rice.
Nutrition Information:
Amount Per Serving:
Calories:

0
Total Fat:

0g
Saturated Fat:

0g
Trans Fat:

0g
Unsaturated Fat:

0g
Cholesterol:

0mg
Sodium:

0mg
Carbohydrates:

0g
Fiber:

0g
Sugar:

0g
Protein:

0g