Slow Cooker Orange Chicken is the ultimate go-to when you want a hassle-free and mouthwatering meal! Thanks to your trusty slow cooker, all the magic happens effortlessly! Imagine tender and juicy chicken, slathered in a delightful sweet-yet-tangy orange glaze that's simply irresistible!
To get started, drizzle some olive oil at the bottom of your slow cooker. Then, take diced chicken, cornstarch, salt, and pepper, toss them into a zip-top bag, and give it a good shake until the chicken is evenly coated. Now, place the chicken in the slow cooker.
Next up, add in the rest of the ingredients to the slow cooker and gently stir everything together, making sure the chicken is beautifully coated in the sauce.
Cover the slow cooker and let the magic happen! Set it to high for about 2 hours or low for around 4 hours. Now, remember, all slow cookers have their quirks, so it's best to start checking the chicken at 90 minutes for high or 3 hours for low. Make sure the chicken reaches 165F on an instant-read thermometer to know it's done to perfection!
Now, here's how I love serving this delightful CrockPot orange chicken. Grab some rice, plate the chicken over it, and garnish it with chopped green onions and sesame seeds. Trust me; the combination is just heavenly!
Now, I know some of you may not have a slow cooker at hand, but fret not! While I haven't personally tried making this without one, I have a bunch of other chicken recipes listed in the Related Recipes section below that you can try out until you get your hands on a slow cooker.
As for adding veggies to this dish, I've prepared it as written, but some of my readers have experimented successfully by adding chopped vegetables in the last 30 minutes of cooking. So feel free to get creative and see what tickles your taste buds!
Now, a few readers have asked about using sugar-free orange marmalade in this recipe. While I've only used regular orange marmalade (full sugar) myself, I can't say for certain how the sugar-free kind will behave in the sauce or affect the overall flavor. So if you decide to try it, let me know how it turns out!
Also, in case you're not a fan of sesame, no worries! Just substitute some extra olive oil in the orange chicken sauce and skip the sesame seed garnish.
So there you have it, my fabulous Slow Cooker Orange Chicken! A delightful dish that's easy to make and impossible to resist. Enjoy!
Print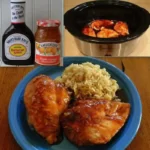 Slow Cooker Orange Chicken – Super easy and Great tasting
---
Ingredients
4 lg. chicken breasts, boneless, skinless (approx. 3.5 lbs.)
6 Tbsp. Flour
2/3 c. Smuckers Sugar Free Orange Marmalade
2/3 c. Jack Daniel's BBQ Sauce
4 Tbsp. Kikkoman Light Soy Sauce
2 Tbsp. Ginger, fresh grated (or jarred)
---
Instructions
Put chicken and flour into a bag and toss together.
Place the chicken in the crockpot.
Add the rest of the ingredients, cover and cook on low for 6 – 8 hours, or on high for 3 – 4 hours.