Mmm pot roast. It's a wonderful dish, a perfect savory dinner that you will love.
Did you know though, that you can put this in he slow cooker?
The slow cooker is a great way to make this, as it's something that's slow in cooking, and it offers a nice, tender texture to this that you won't be able to get enough of.
Not just that though, the amazing gravy that you're having with this is to die for, and mouth-watering, making it one of the best, most amazing types of dishes t have if you need a convenient dinner that will really make it work for you, and offer you the best type of dish that you can enjoy.
Tips:
Can I cook this on high?
This is not one that's recommended to cook this on high. If you're someone who is interested in making this, cooking this on a low setting is recommended, since it offers the best flavor.
When you cook it on high, it can make it a little bit dry and not as tender, which can impact the quality of the meat, so it's best if you keep this on a night, high temperature that's perfect for you to enjoy, and something that will definitely leave your mouth watering, and begging for more.
What can I use instead of red Wine?
Some people don't like to use red wine in this recipe, and that's totally fine.
If you're not interested in using red wine in this pot roast recipe, your other option is to add more beef broth instead.
It will offer a nice, beef flavor that you will definitely enjoy, and something that you will want to consider as well if you can't have alcohol, or don't want to include alcohol in the dish, whenever possible.
Print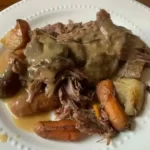 Slow Cooker Pot Roast with Gravy
---
2 pound chuck roast
2 cloves garlic
8 oz baby carrots
16 oz gold potatoes (halved or quartered if large)
1/2 cup red wine
1 tablespoon herb and garlic seasoning
1 tablespoon olive oil
1 tablespoon butter
1/2 sweet yellow onion
3 cups beef broth
1/4 cup tapioca pearls
1/4 cup cornstarch
2 tablespoons tomato paste
---
Instructions
Take your roast, and from there, season it thoroughly with the herb and garlic seasoning, making sur it's all fully covered.
Take the oil and heat it up, and heat the pan onto medium-high heat, in a multi-cooker or a skillet.
Take the roast, and then brown it on each side.
Take the roast and then place it into your slow cooker with the potatoes and the carrots.
From here, use the time to make a slurry by whisking 1/4 cup of water with the cornstarch.
Make sure to fully whisk the slurry all together with the rest of the ingredients that are located within the slow cooker.
From there, turn the slow cooker onto low, and then, let it cook in the slow cooker on low for about 8-10 hours, or until it's tender, and everything is combined.
Season everything for taste, and from there, serve it as you desire. You should try to go for a fork-tender sort of pot roast to offer the best results that you can get from this, and something that you won't be able to get enough of.