Get ready to elevate your potluck game with our irresistible Slow Cooker Macaroni and Cheese!
In the realm of potluck perfection, there's a dish that stands out, stealing the spotlight with its creamy texture and cheesy allure: Slow Cooker Potluck Macaroni and Cheese. Imagine tender elbow macaroni bathed in a velvety blend of Velveeta, Mexican cheese, white cheddar, and a symphony of rich ingredients. What sets this dish apart is the convenience of the slow cooker, transforming simple components into a masterpiece of comfort food. As the ingredients meld and mingle, the result is a gooey, satisfying dish that's ready to impress at any potluck or gathering. Join us as we uncover the art of crafting this Slow Cooker Potluck Macaroni and Cheese, where simplicity meets indulgence in the most delicious way.
Our Slow Cooker Potluck Macaroni and Cheese is a celebration of cheesy decadence and fuss-free cooking. It begins with perfectly cooked elbow macaroni, prepared according to package instructions for that ideal al dente texture. The star of the show is the trio of cheeses: Velveeta, Mexican blend, and white cheddar, creating a luscious, melt-in-your-mouth experience. Whole milk and evaporated milk contribute to the creaminess, while melted butter and lightly beaten eggs add the finishing touches. The magic happens in the slow cooker, where all these elements harmonize into a gooey masterpiece. Cooked low and slow, this macaroni and cheese becomes the ultimate potluck sensation, offering comfort and flavor in every bite.
Substitutions and Variations:
Experiment with different cheese blends to tailor the dish to your preferences. Smoked Gouda, Monterey Jack, or sharp yellow cheddar can add unique flavors.
Closing:
As you scoop into a serving of our Slow Cooker Potluck Macaroni and Cheese, savor the creamy indulgence and the melding of cheesy goodness. Whether it's a potluck, family gathering, or cozy weeknight dinner, this dish promises to be a hit. Share the joy of comfort food, and let the slow cooker work its magic while you bask in the compliments. Here's to effortless cooking and the pleasure of serving a dish that leaves everyone asking for seconds. Happy potlucking!
Frequently Asked Questions:
Can I prepare this macaroni and cheese in advance and reheat it later?
Absolutely! Prepare the dish as instructed and refrigerate it. When ready to serve, reheat it in the slow cooker on the "warm" setting or in the oven at a low temperature until heated through.
Can I use different pasta shapes for this recipe?
Certainly! While elbow macaroni is traditional, feel free to experiment with other pasta shapes like rotini, penne, or shells. Just ensure they are cooked al dente for the best texture in the finished dish.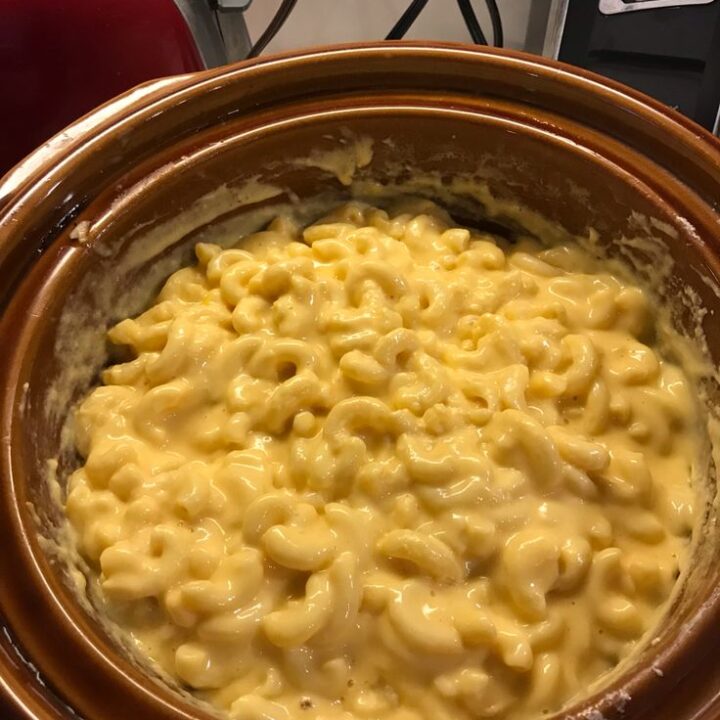 slow cooker Potluck Macaroni and Cheese
Total Time:
5 hours
10 minutes
Ingredients
3 cups uncooked elbow macaroni
1 package (16 ounces) Velveeta, cubed
2 cups shredded Mexican cheese blend
2 cups shredded white cheddar cheese
1-3/4 cups whole milk
1 can (12 ounces) evaporated milk
3/4 cup butter, melted
3 large eggs, lightly beaten
Instructions
Cook the macaroni according to package directions for al dente; drain. Transfer the drained macaroni to a greased 5-qt. slow cooker.
Stir in the remaining ingredients: Velveeta, shredded Mexican cheese blend, shredded white cheddar cheese, whole milk, evaporated milk, melted butter, and lightly beaten eggs. Ensure everything is well combined.
Cook the mixture, covered, on low for 2 to 2.5 hours or until a thermometer reads at least 160°F, stirring once during the cooking process to ensure even consistency.
Tips and Notes:
For added depth of flavor, consider incorporating a pinch of ground mustard or a dash of hot sauce into the cheese mixture.
Nutrition Information:
Amount Per Serving:
Calories:

0
Total Fat:

0g
Saturated Fat:

0g
Trans Fat:

0g
Unsaturated Fat:

0g
Cholesterol:

0mg
Sodium:

0mg
Carbohydrates:

0g
Fiber:

0g
Sugar:

0g
Protein:

0g