A big thanks to my dear friend, John, for this very easy yet very delicious dish! Oh, man, I'm telling you, this recipe is superb! I have listed all the ingredients and steps so all you need to do is to follow them step by step and you are good to go! By the way, feel free to add more ingredients if you want. I sometimes add crispy bacon and cheese to take this recipe to the next level! I suggest you do the same thing. Just do it and thank me later! Oh, man, you are so in for a treat! Don't forget to share this with your loved ones! Have a beautiful day, friends and I hope you are all well. Enjoy!
Notes:
Place any leftovers in an airtight container and put them inside the freezer.
When serving, allow the sausage and potatoes to thaw at room temperature.
If you want a thicker sauce, feel free to add cornstarch. Dissolve it in ¼ cup of water, then pour it over the mixture 30 minutes before serving.
Prep Time: 10 mins | Cook Time: 7 hrs | Total Time: 7 hrs 10 mins | Yield: 8 Servings
Print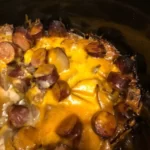 SLOW COOKER SAUSAGE AND POTATOES
---
2 lbs sausage links diced into 1-inch pieces
2 lbs potatoes washed and diced into chunks
1 large onion sliced (optional)
6 to 12 garlic cloves optional
1 can cream of chicken soup
¾ c chicken broth
2 tablespoons Worcestershire sauce
---
Instructions
Step 1: Brush with butter the crockpot.
Step 2: Arrange the sausage, potatoes, and onions into the prepared pot.
Step 3: In a mixing bowl, add the Worcestershire sauce and broth. Stir until well combined.
Step 4: Pour the mixture over the ingredients in the pot.
Step 5: Cover and seal the crockpot. Cook for 6 to 8 hours on a low setting.