Almond Joy candy bars have always been one of my favorites – my mom's too. Actually, anything with chocolate and coconut will win me over instantly! These cookies go quickly in my house so I usually double the recipe and freeze some – if I don't freeze some, we will devour all of them!
It is not as if I am hiding them from anyone! However, if they are discovered it is not a problem, they are not difficult to make so knocking out more takes little time.
I have made these with unsweetened coconut, and they were still fabulous. If you need to cut back on sugar, that is a good way to do so. They still retain the moist and chewy texture – also, I love how the almonds give the cookie a little crunch!
This recipe doesn't make a huge batch so there is no excuse to make up a batch,
Notes:
• Parchment paper or silicone baking mats are great for keeping cookies from sticking. If you do not have either, greasing the baking sheet will work as well.
• I recommend doing a test bake of a couple of cookies. If they spread too fast, refrigerate the dough for 1-2 hours and test again. If they do not spread enough, gently press each scoop of dough down with the palm of your hand and test again.
• Make sure to store in an airtight container because a plastic bag doesn't protect them enough and the nuts tend to fall off.
• Freezing the Cookies: layer a sheet of parchment or wax paper in between the cookies in an airtight container.
• For extra goodness, you can press some M&Ms into the top. Also, toasting the almonds brings out the nutty flavor which is really delicious.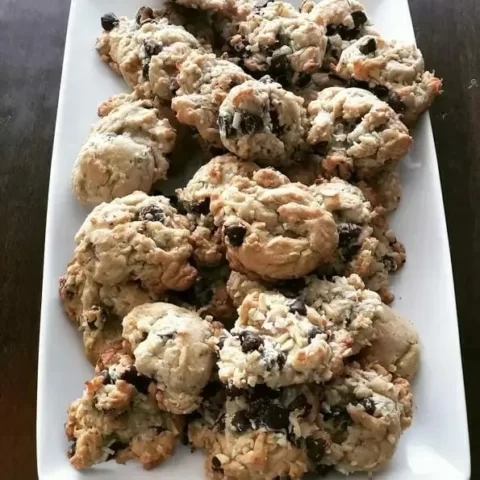 SMALL BATCH ALMOND JOY COOKIES
Ingredients
1 ⅛ cups all-purpose flour (1 cup plus two Tbsp.)
½ tsp. baking soda
¼ tsp. salt
½ cup butter softened (1 stick)
⅓ cup sugar
⅓ cup brown sugar
1 tsp. vanilla extract
1 egg
1 ½ cups semi-sweet chocolate chips
1 cup sweetened coconut flakes (shredded coconut will also work)
¾ cup sliced almonds
Instructions
Preheat oven to 350° F
In small bowl whisk to combine flour, baking soda and salt. Set aside.
Using mixer, cream butter, and sugars. Add vanilla and egg and mix just until incorporated.
Slowly blend the dry mixture into the creamed mixture.
Stir in chocolate chips, coconut flakes and sliced almonds.
Using spoon or cookie scoop, drop about 1½ Tbsp. of dough onto parchment covered cookie sheets.
Bake for 9-12 minutes. (If you bake past 9 minutes, keep a close eye on them because they may begin to brown quickly.)
Allow to cool for ten minutes before moving to cookie cooling racks.
Nutrition Information:
Amount Per Serving:
Calories:

0
Total Fat:

0g
Saturated Fat:

0g
Trans Fat:

0g
Unsaturated Fat:

0g
Cholesterol:

0mg
Sodium:

0mg
Carbohydrates:

0g
Fiber:

0g
Sugar:

0g
Protein:

0g