A chicken based recipe that can be served as a main dish at home or made for events. This recipe is made from chicken, spinach and mushroom and tastes just as delicious as it sounds
If you are looking for a well-balanced chicken recipe then you should consider smothered chicken with mushroom spinach. It's healthy, super delicious, and causes no-fuss in cooking. It's truly one for the ages and I'll recommend you try this at home or at that family event that'll see everyone gathered.
Smothered Chicken with Creamed Spinach and Mushrooms is a tasty method to prepare boneless, skinless chicken breasts. The moistness and tenderness of your chicken is assured. It's a one-dish meal that's both comforting and nutritious. Gluten-free, low-carb, and loaded with protein and vegetables, this smothered chicken meal is a winner.
If you enjoy stuffed chicken breasts, you'll enjoy this "smothered" variation. Simply layer the creamed spinach, mushrooms, and cheese mixture on top of seasoned chicken breasts and bake until done. This dish for chicken dinner is far from ordinary!
Prep time: 50 minutes
Servings: 4 servings. (you can tweak the ingredient amounts to cater for a larger crowd)
Print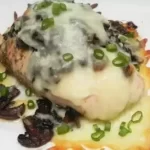 SMOTHERED CHICKEN WITH MUSHROOM SPINACH
---
4 boneless skinless chicken breasts
8 ounces Neufchatel cheese
17g zesty Italian salad dressing mix
8 ounces fresh spinach
8 ounces fresh mushrooms, sliced
1 large onion, sliced lengthwise
1 1⁄2 cups shredded mozzarella provolone parmesan blend cheese
1 teaspoon salt, to taste
1 teaspoon pepper, to taste
---
Instructions
Step 1: Preheat oven to 350 degree and coat the pan with olive oil. Fry the onions in the pan until it caramelizes, then add mushrooms, and fry until they get slightly brown.
Step 2: Mix the Neufchatel cheese and packet of Zesty Italian Dressing together until they are well blended, then put the chicken breasts in the pan.
Step 3: Divide the cream cheese mixture into four equal portions, and then spread it on top of each of the chicken breast. Then add the entire spinach in the pan and distribute the onion evenly with the mushroom mixture add over the top of the spinach.
Step 4: Add salt and pepper to taste and cover with the shredded mozzarella, provolone, and parmesan blend cheese. Leave it to bake in the oven for about 30 minutes.
Step 5: Remove from the oven and serve with a rice pilaf or a risotto.