This Smothered Chicken recipe is not just a dish; it's a symphony of flavors that will tantalize your taste buds. Imagine tender chicken breasts adorned with layers of mozzarella cheese, nestled under a velvety blanket of creamed spinach and a rich tapestry of sauteed mushrooms. Each bite is a celebration of taste and texture, making it a perfect choice for your next dinner adventure.
Why You'll Love This Recipe:
Indulge in the richness of flavors and textures. From the succulent chicken seasoned to perfection to the creamy spinach and the earthy, well-browned mushrooms, every element of this dish harmonizes beautifully. It's not just a meal; it's a gourmet experience that promises culinary satisfaction.
Recipe Tips and Variations:
Cheese Lover's Paradise: Enhance the cheesy goodness by experimenting with different types of cheeses like Gruyere or Fontina.
Herbal Infusion: Elevate the flavors by adding a sprinkle of fresh herbs like thyme or basil to the creamed spinach.
Why This Smothered Chicken Delight Is a Must-Try:
Gourmet Comfort: This dish combines the heartiness of comfort food with gourmet sophistication.
Versatile Elegance: Perfect for a cozy family dinner or a special occasion, this recipe adapts to any setting.
Mouthwatering Layers: Each layer of this dish, from the seasoned chicken to the creamy spinach and savory mushrooms, is a culinary delight.
What to Serve With This Recipe:
Pair this Smothered Chicken Delight with a crisp mixed greens salad and warm garlic bread for a complete and satisfying meal.
Remember it later
Like this recipe! Pin it to your favorite board NOW!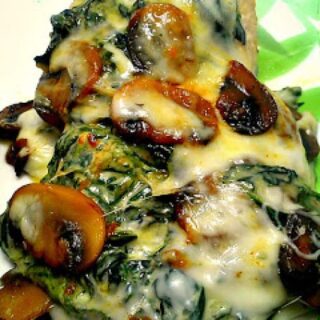 Smothered Chicken with Sauteed Mushrooms & Creamed Spinach
Chicken with sautéed mushrooms and creamed spinach - a full meal! If you get everything prepped ahead of time, this recipe comes together REALLY fast.
Ingredients
CREAMED SPINACH:
1 large bag of spinach leaves
1/2 (8-ounce) package cream cheese
1/4 cup shredded Parmesan cheese
2 cloves garlic, minced
3 tablespoons red onion, minced
2 tablespoons olive oil
Salt and pepper, to taste
SAUTEED MUSHROOMS:
8 ounce package mushrooms, sliced
1/2 stick butter
2 tablespoons olive oil
1/2 cup white wine
2 cloves garlic, minced
Salt and pepper, to taste
CHICKEN:
4 to 5 boneless chicken breasts
8 to 10 slices Mozzarella cheese, cut into 1/8 inch slices
1 tablespoon garlic powder
1 tablespoon seasoned salt, like Lawry's
1 teaspoon pepper
Instructions
Preheat the oven to 350°F. Sprinkle the garlic powder, seasoned salt, and pepper on both sides of the chicken. Bake for 16 minutes.
Meanwhile, make the creamed spinach. Over medium-high heat, melt 2 tablespoons olive oil in a skillet. Add in the onions and saute 2-3 minutes. Add in the spinach and garlic. It will shrink ridiculously. When it's cooked through, stir in the cream cheese and parmesan cheese. Continue cooking and stirring until the cream cheese is melted. Remove from heat.
For the mushrooms, melt butter and 2 tablespoons olive oil in a skillet. Put the mushrooms in and cook until browned all over. Don't season with salt until they are browned or they will never brown. Deglaze the pan with the wine. Add in the garlic and season with salt and pepper. Cook until most of the wine is cooked out.
Flip the chicken pieces over. Divide the spinach and mushrooms over the top of each breast. Lay two slices of cheese over each piece of chicken. Cook another 12-14 minutes or until cheese is browned and chicken is done.
Nutrition Information:
Amount Per Serving:
Calories:

0
Total Fat:

0g
Saturated Fat:

0g
Trans Fat:

0g
Unsaturated Fat:

0g
Cholesterol:

0mg
Sodium:

0mg
Carbohydrates:

0g
Fiber:

0g
Sugar:

0g
Protein:

0g
Remember it later
Like this recipe! Pin it to your favorite board NOW!