Get ready to savor the delectable symphony of flavors with these seared steak bites – succulent cubes of sirloin steak cooked to absolute perfection, all swathed in a rich garlic butter sauce. This is no ordinary dish; it's a speedy culinary masterpiece that's a perfect choice for a quick meal or a delightful addition to any gathering!
For all those meat enthusiasts in your circle, this is a culinary adventure you simply can't miss. Let's talk about these marvelous garlic butter steak bites. They're not only a delight to enjoy directly from the pan with those handy toothpicks, but also a revelation when served atop velvety mashed potatoes for a hearty and satisfying dinner option.
Now, if the mere mention of steak makes your heart skip a beat, these steak bites are an ingenious and playful approach to fulfill your carnivorous cravings. My own children can't seem to get enough of them – a testament to their mouthwatering allure. And truly, the union of steak and garlic butter is a match made in flavor heaven, wouldn't you concur?
Now, let's dive into the art of crafting these delectable steak bites enriched with garlic butter goodness.
We begin with sirloin steak, expertly cut into bite-sized pieces. I opted for sirloin due to its delicate tenderness and delightful taste, all without breaking the bank. Of course, other excellent choices like tenderloin, rib eye, or New York strip steak could be equally sensational. As we cook the steak pieces, a dance of olive oil, butter, garlic, salt, and pepper transforms them into irresistible morsels, adorned with a sprinkle of vibrant parsley. And voilà, the magic happens!
A crucial element to master in this recipe is the sizzling hot pan, which works its charm to create that tantalizing crust on the meat. Now, keep in mind that butter can turn a little temperamental at high temperatures, so I prefer to kick off the cooking process with a drizzle of olive oil for that initial browning, followed by the butter for its enchanting flavor. If you're looking for the perfect vessel, a trusty cast iron skillet is your best bet – it's the kind of pan that can generate those mouthwatering sizzles!
Cooking the steak is a swift affair, just a few minutes are all it takes. The garlic makes its grand entrance toward the end, ensuring it imparts its wonderful essence without a hint of bitterness. A sprinkle of parsley is the finishing touch, adding both vibrant flavor and a dash of color to this masterpiece. Whether you indulge in these steak bites as a casual snack, pair them with potatoes for a robust main course, or even complement them with some bread to relish every drop of that enchanting garlic butter, rest assured, these bites will win hearts and palates alike!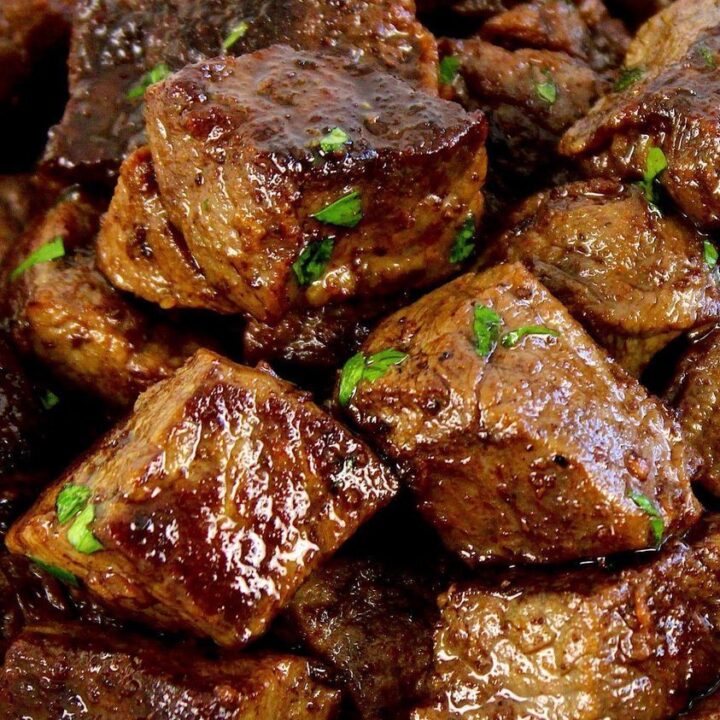 STEAK BITES
Ingredients
1/2 cup soy sauce
1/3 cup olive oil
1/4 cup Worcestershire sauce
1 teaspoon minced garlic
2 Tablespoons dried basil
1 Tablespoon dried parsley
1 teaspoon black pepper
1-1/2 lbs. flat iron or top sirloin steak, cut in 1-inch pieces
Instructions
1 – Place all ingredients, except steak, in a large ziplock baggie. Stir with a spoon to combine.
2 – Drop steak pieces in and seal shut. Shake gently to coat steak entirely in marinade. Place bag in refrigerator to marinate for at least 3 hours or up to 24.
3 – Heat a large skillet over medium-high heat. Heat skillet until it's very hot. Remove steak pieces from marinade using a slotted spoon and place in hot skillet. Discard marinade. Cook steak according to your desired temperature. We like medium-well so I cooked ours for about 3 minutes.
4 – Serve warm and enjoy!
Notes
NUTRITION
Calories: 
272
kcal
 | 
Protein: 
31
g
 | 
Fat: 
15
g
 | 
Saturated Fat: 
6
g
 | 
Cholesterol: 
101
mg
 | 
Sodium: 
130
mg
 | 
Potassium: 
484
mg
 | 
Vitamin A: 
175
IU
 | 
Calcium: 
40
mg
 | 
Iron: 
2.3
mg
Nutrition Information:
Amount Per Serving:
Calories:

0
Total Fat:

0g
Saturated Fat:

0g
Trans Fat:

0g
Unsaturated Fat:

0g
Cholesterol:

0mg
Sodium:

0mg
Carbohydrates:

0g
Fiber:

0g
Sugar:

0g
Protein:

0g