If you're a fan of both seafood and meat, you'll find joy in this recipe for Creamy Garlic Shrimp with Steak. The combination of succulent shrimp and tender steak creates a harmonious blend of flavors and textures. What distinguishes this dish is the indulgent garlic sauce, which imparts depth and smoothness to the overall taste experience.
INGREDIENTS FOR STEAK CREAMY GARLIC SHRIMP:
Steak: To savor a delectable steak, it's vital to opt for a high-quality cut like ribeye or sirloin, ensuring tenderness and rich flavor.
Shrimp: The inclusion of shrimp alongside steak and garlic sauce results in a delightful interplay of tastes and textures that complement each other perfectly.
Garlic: The sauce's essence hinges on fresh garlic, minced to perfection to seamlessly integrate into the sauce.
Butter: Incorporating butter yields a luscious, creamy sauce that enriches both the shrimp and steak's flavors and textures.
Heavy Cream: Responsible for the sauce's velvety consistency, heavy cream mitigates the robustness of garlic's flavor.
Parmesan Cheese: Grated parmesan enhances the sauce with nutty undertones and a touch of saltiness.
Steak Seasoning: Applying your favorite steak seasoning enhances flavor prior to cooking.
Lemon Juice: A splash of freshly squeezed lemon juice not only imparts vibrancy but also balances the sauce's richness.
INSTRUCTIONS FOR MAKING STEAK CREAMY GARLIC SHRIMP:
Season the steak and allow it to rest.
Heat a skillet over medium-high heat, adding a tablespoon of butter.
Cook the shrimp until pink and fully cooked (about 2-3 minutes per side); set aside.
In the same skillet, add another tablespoon of butter and chopped garlic; sauté briefly.
Simmer heavy cream in the skillet, stirring consistently.
Thicken the sauce by adding grated parmesan cheese and stirring until melted.
Return the shrimp to the skillet, coating them with the sauce.
Cook the steak separately until desired doneness.
Serve the steak with the creamy garlic shrimp sauce and a drizzle of lemon juice.
TIPS FOR STEAK AND CREAMY GARLIC SHRIMP:
For a stronger garlic flavor, incorporate extra garlic cloves.
Avoid overcooking the shrimp to prevent toughness; remove when they turn pink.
You can thicken the sauce with a cornstarch slurry for a richer consistency.
CREAMY GARLIC SHRIMP AND STEAK VARIATIONS:
Substitute chicken or tofu for steak.
Add chopped spinach or kale for added health benefits.
Infuse heat with red pepper flakes or diced jalapeño.
Experiment with different cheeses like romano or asiago.
For a dairy-free version, use coconut cream and nutritional yeast.
SERVING SUGGESTIONS:
Pair with roasted/grilled vegetables, rice/quinoa, cauliflower mash/mashed potatoes, or crusty bread.
FREEZING AND STORAGE:
Freeze cooked steak and shrimp for 2-3 months.
Store leftovers in the fridge for 3-4 days in an airtight container.
HEALTH CONSIDERATIONS:
Opt for leaner beef cuts, reduce butter and cream, and serve with vegetables for a healthier meal.
Print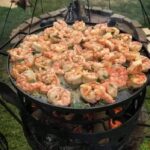 STEAK CREAMY GARLIC SHRIMP
---
8

 

oz

 

steaks

2

 

tbsp

 

butter

1

 

lb

 

shrimp, peeled and deveined

Salt and pepper to taste

4

 

cloves

 

garlic, minced

½

 

cup

 

parmesan cheese, grated

1

 

cup

 

heavy cream

1

 

tsp

 

steak seasoning

1

 

tbsp

 

lemon juice
---
Instructions
Give the steaks some flavor by using steak seasoning, salt, and pepper.

After seasoning, put them in a large skillet over medium-high heat.

If you want a medium-rare texture, cook for 4-5 minutes on both sides or more for a different level of doneness.

After cooking, place it on the side to rest.

After cooking the shrimp, place them aside, and then melt some butter with garlic in the same skillet until it produces a pleasant smell.

Return the shrimp to the pan and cook until it turns pink and is fully cooked.

Finally, introduce the heavy cream into the skillet and heat it up until it simmers.

Combine the parmesan cheese and lemon juice with the mixture and stir thoroughly until the cheese has dissolved and the sauce has thickened.

Then, slice the steak and serve it alongside the creamy garlic shrimp sauce.