Strawberry Cream Cheese Banana Bread. This heavenly creation takes the classic banana bread to new heights by infusing it with the sweetness of ripe strawberries and the decadence of cream cheese. Each slice is a delightful blend of moist banana goodness, luscious cream cheese swirls, and bursts of strawberry sweetness. Get ready to fall in love with banana bread all over again.
Why You Should Try It:
If you're a fan of banana bread, this recipe will be a game-changer. The addition of cream cheese adds a rich, velvety texture, while the strawberries bring a juicy, fruity sweetness. It's the perfect marriage of flavors and textures, creating a truly indulgent treat. Whether you're a baking enthusiast or just someone who loves a good slice of bread, this recipe is a must-try.
RECIPE TIPS AND VARIATIONS:
Fresh or Frozen Strawberries: You can use fresh or frozen strawberries. If using frozen, thaw and drain them before folding them into the batter.
Nuts or Chocolate: For an extra crunch, add chopped nuts like walnuts or pecans. Alternatively, turn it into a dessert by adding chocolate chips.
Cinnamon Spice: A pinch of cinnamon in the batter enhances the overall flavor profile.
WHY YOU'LL LOVE THIS:
A Fusion of Flavors.
Strawberry Cream Cheese Banana Bread isn't just a recipe; it's a celebration of flavors. The cream cheese swirls add a luxurious touch, while the strawberries create pockets of sweetness in every bite. It's a versatile treat, perfect for breakfast, brunch, or dessert. Plus, the aroma of this bread baking in your oven will make your home smell absolutely divine.
WHAT TO SERVE WITH THIS RECIPE:
Enjoy your Strawberry Cream Cheese Banana Bread warm and fresh out of the oven with a dollop of whipped cream or a scoop of vanilla ice cream for an irresistible dessert. For a delightful breakfast, serve it with a hot cup of coffee or tea.
Notes:
Storage: Store any leftover Strawberry Cream Cheese Banana Bread in an airtight container in the refrigerator for up to 3 days. Warm slices in the microwave before serving.
Cream Cheese Swirl: To create a beautiful swirl pattern, avoid overmixing the cream cheese mixture into the batter. A few gentle folds are sufficient to create the marbled effect.
Make it Pretty: Garnish the top of the bread with a few strawberry slices before baking for an extra touch of elegance.
Remember it later
Like this recipe! Pin it to your favorite board NOW!
Print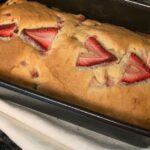 STRAWBERRY CREAM CHEESE BANANA BREAD
---
preheat oven to 350 degrees F.
3/4 cup butter, softened to room temperature
8 oz. cream cheese, softened to room temperature
1 and 1/2 cups sugar, plus more for top
2 large eggs, lightly beaten
2 teaspoons pure vanilla extract
1 cup overly ripe mashed bananas (approximately 2 medium)
3 cups all purpose flour
1 teaspoon baking soda
1 teaspoon baking powder
1/2 teaspoon salt
1 and 1/2 cups coarsely chopped, fresh strawberries
---
Instructions
Grease 2 (8×5) loaf pans. Mix butter, cream cheese, and sugar together until light and fluffy. Add eggs, vanilla, and mashed bananas. Mix just until evenly combined.
In a separate bowl, combine: flour, baking soda, baking powder, and salt. Add to wet ingredients and mix just until everything is evenly combined and moistened. Gently fold in strawberries.
Pour batter into loaf pans. Sprinkle each loaf with a little more sugar. Bake in preheated oven for 60 minutes, or just until a wooden skewer inserted into the center of the loaves comes out with a few moist crumbs on it. Cool on racks, in pans, for 15 minutes before turning out onto racks to cool completely. Store whatever you don't eat right away in the fridge.
Remember it later
Like this recipe! Pin it to your favorite board NOW!