this Strawberry Lemonade Cake. This recipe brings together the fresh, vibrant flavors of lemon and strawberries in a moist and tender cake, creating a dessert that's perfect for any occasion. The rich aroma of lemon zest and the natural sweetness of strawberries meld harmoniously, making each bite a burst of summer sunshine. Topped with a luscious strawberry glaze, this cake is a celebration of seasonal flavors and a delightful treat for dessert lovers.
Why You'll Love This Recipe:
This Strawberry Lemonade Cake offers a tantalizing blend of flavors and textures that will make it a favorite in your dessert repertoire. Here's why you'll adore this delightful creation:
Bright Citrus Zest: The lemon zest infuses the cake with a burst of citrusy aroma and flavor, balancing the sweetness of the strawberries beautifully.
Fresh Strawberry Glaze: The glaze made from pureed strawberries and powdered sugar adds a natural, fruity sweetness and a vibrant pink hue to the cake, making it visually appealing and irresistibly tasty.
Moist and Tender Crumb: The combination of butter, eggs, and cream yields a cake with a moist and tender crumb, ensuring a delightful eating experience with every bite.
Versatile Dessert: Perfect for tea parties, brunches, or as a delightful sweet treat after dinner, this cake is versatile and sure to impress your guests.
Remember it later
Like this recipe! Pin it to your favorite board NOW!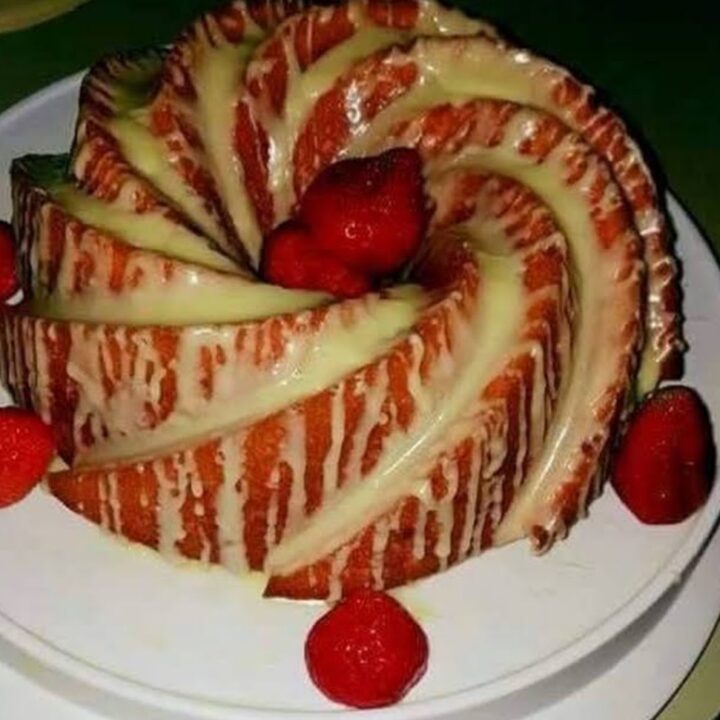 Strawberry Lemonade Cake
Ingredients
For the Cake:
1 stick salted Challenge butter, slightly softened
1 1/4 cups granulated sugar, divided
2 large eggs
3 tablespoons lemon zest
1 1/2 cups all-purpose flour
1/4 teaspoon baking soda
1/4 teaspoon baking powder
1/4 cup lemon juice
1/4 cup heavy cream
For the Glaze:
1/2 cup frozen strawberries, thawed
2 2/3 cups powdered sugar
Instructions
Preheat your oven to 350°F (175°C).
Butter and flour one 8.5 x 4.5-inch loaf pan and set aside.
Prepare the Cake Batter:
In the bowl of your mixer, cream the softened Challenge butter and 1 cup of granulated sugar on medium speed for about 5 minutes until light and fluffy.
Beat in the eggs, one at a time, and then mix in the lemon zest.
Combine Dry Ingredients:
In a large bowl, whisk together the all-purpose flour, baking powder, and baking soda.
Prepare the Liquid Mixture:
In another bowl, combine 2 tablespoons of lemon juice and the heavy cream.
Mix the Batter:
With the mixer on medium speed, add the flour mixture and the cream mixture alternately to the batter, starting and ending with the flour mixture. Mix until just combined.
Bake the Cake:
Pour the batter into the prepared loaf pan, smoothing the top.
Bake for about 45 minutes or until the cake is browned and a toothpick inserted in the center comes out clean or with moist crumbs but no batter.
Cool the Cake:
Let the cake cool in the pan for about 15 minutes before removing it to a wire rack to cool completely.
Prepare the Strawberry Glaze:
In a blender or food processor, blend the thawed strawberries until smooth.
Pour the strawberry puree into a bowl and whisk in the powdered sugar until smooth.
Glaze the Cake:
Drizzle the strawberry glaze over the cooled cake, allowing it to drip down the sides.
Serve and Enjoy:
Slice the cake and serve it, reveling in the delightful blend of strawberry and lemon flavors.
Notes
This Strawberry Lemonade Cake is a refreshing and delightful dessert that captures the essence of summer. Its bright, citrusy notes and the sweet allure of strawberries make it a must-have for any dessert lover. Whether you're hosting a gathering or simply treating yourself, this cake is sure to bring smiles and contentment. Enjoy the vibrant flavors and savor the joy of homemade baking with this exquisite Strawberry Lemonade Cake.
Nutrition Information:
Amount Per Serving:
Calories:

0
Total Fat:

0g
Saturated Fat:

0g
Trans Fat:

0g
Unsaturated Fat:

0g
Cholesterol:

0mg
Sodium:

0mg
Carbohydrates:

0g
Fiber:

0g
Sugar:

0g
Protein:

0g
Remember it later
Like this recipe! Pin it to your favorite board NOW!