Stuffed cabbage rolls are a dish made by wrapping a mixture of ground meat, rice, and spices in cabbage leaves, which are then simmered in a flavorful tomato sauce. The filling can vary depending on the recipe and regional variations, but commonly includes ground beef or pork, cooked rice, onions, garlic, and seasonings such as paprika, oregano, and thyme.
The cabbage leaves are typically blanched or steamed to make them pliable and easier to roll, and then the filling is spooned onto each leaf and rolled up tightly, similar to a burrito. The rolls are arranged in a large pot or casserole dish, covered with a tomato sauce, and then simmered over low heat until the cabbage is tender and the flavors have melded together.
Stuffed cabbage rolls are a popular comfort food in many cultures, with variations found in Eastern European, Middle Eastern, and Mediterranean cuisines. They can be served as a main course with a side of crusty bread, or as a hearty appetizer or side dish.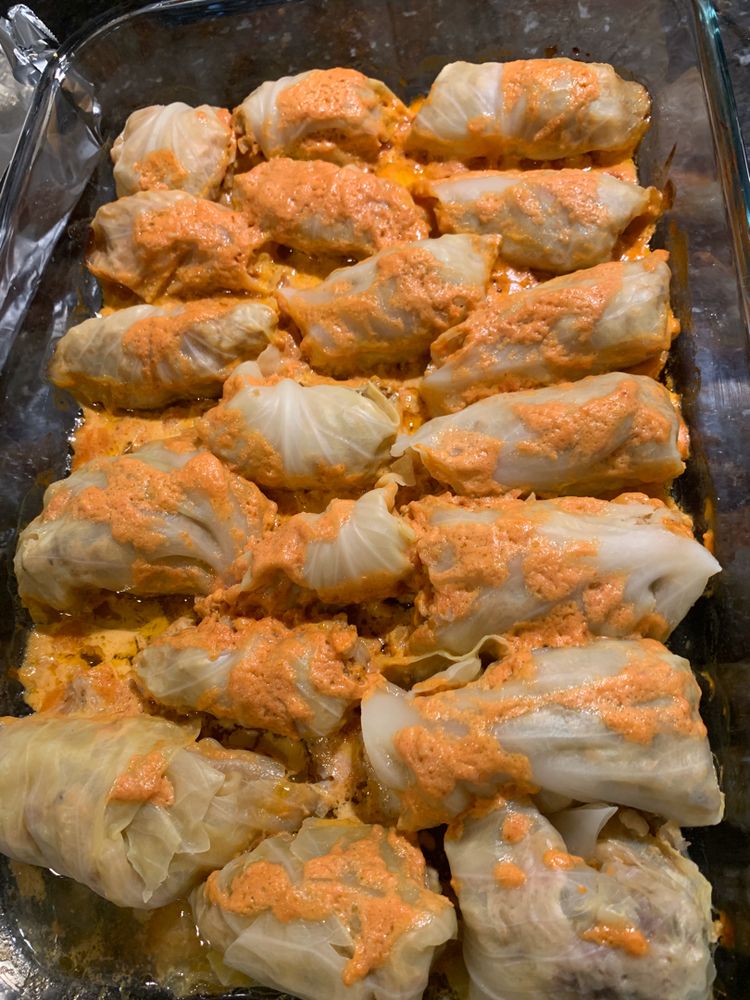 Easy Stuffed Cabbage Rolls Recipe :
This recipe for cabbage rolls is made with affordable ingredients, resulting in a tasty and satisfying meal. It's one of the reasons why I adore Ukrainian cuisine!
Golubtsi, or Ukrainian stuffed cabbage rolls, are moist and satiating, and even children enjoy them with their light sauce. My son devours four rolls with sour cream as an afternoon snack, and I can't complain because stuffed cabbage is a nourishing option for feeding a large group.
Ingredients:
Rice – Regular white rice is the optimal choice of rice for making cabbage rolls.
Cabbages – Two medium-sized green cabbage heads are required.
Ground meat – To ensure juiciness and enhance flavor, a combination of ground pork and ground turkey is preferred.
Eggs –  The purpose of adding eggs to the cabbage roll stuffing is to bind the ingredients.
Carrots – Four medium-sized carrots are required for the stuffing and an additional two are needed for the sauce.
Marinara –
White Vinegar – Adding vinegar to the water when boiling the cabbage can help reduce the unpleasant smell associated with boiled cabbage.
Olive Oil and Butter – for cooking.
Sour Cream – Sour cream not only adds creaminess to the sauce but is also a personal favorite for topping and serving cabbage rolls.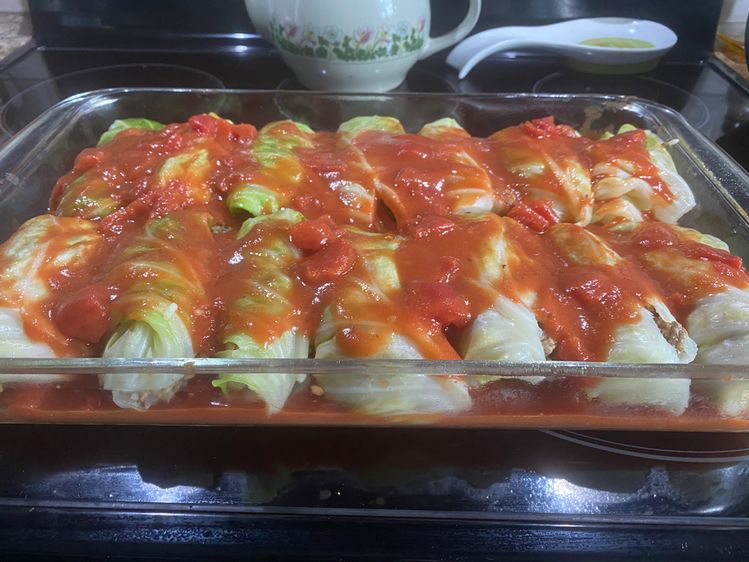 How To Make Stuffed Cabbage Rolls ?
Stuffed cabbage rolls can be time-consuming, the process of making them is straightforward. In the following steps, I have provided a detailed guide with accompanying photographs to make the process easier for you. You can also watch the video above to improve your understanding. Here are the steps:
Prepare the Rice and Cabbage :
Cook the rice – You can cook the rice on the stovetop or use a rice maker if available.
Boil the cabbage – Firstly, remove the outer leaves of the cabbage and cut out the cores . Subsequently, in a large pot of salted water with vinegar, boil the cabbages one at a time. As the leaves start to soften, remove them and place them on a platter to cool. It's important to keep aside 4 cups of the cooking water for later use.
Prepare the Stuffing :
Combine the rice and meat – Take a large bowl and mix the cooked rice with the ground meats.
Saute the carrots – Heat up a pan and saute grated carrots in oil and butter. Afterward, add the marinara sauce and stir well.
Mix everything together – Add the sauteed carrot mixture to the bowl containing the rice mixture, and mix well. Finally, add the eggs and salt, and stir until combined.
Filling the Cabbage Rolls :
Prepare the leaves – If required, cut larger cabbage leaves in half, or shave off the thick stems of smaller leaves using a pairing knife to make rolling easier.
Fill and roll – Take each cabbage leaf and place a couple of spoonfuls of the stuffing mixture in the center. Roll up the cabbage leaf tightly, tucking in the ends. If you're using larger half-leaves, it's easier to shape them into a cone, whereas smaller leaves can be rolled into a compact log shape.
Arrange inside the pot – Put the stuffed cabbage rolls in a large pot or Dutch oven, and proceed to prepare the sauce.
Making the Sauce :
Saute the carrots (again) – To prepare the Podliva sauce, start by sauteing the remaining grated carrots in a skillet with some olive oil and a pinch of seasoning.
Add sour cream and marinara – Once the carrots have softened, add a dollop of sour cream and some extra marinara sauce. Mix well.
Pour over the cabbage rolls – Pour the Podliva sauce over the cabbage rolls, and pour the reserved cabbage water on top. Your cabbage rolls are now ready to be cooked!
How to Cook Stuffed Cabbage Rolls :
There are two ways to cook cabbage rolls:
Oven Method – I recommend using a Dutch oven with the lid on for cooking stuffed cabbage rolls. Start by baking them at 450ºF for the first 20 minutes, and then lower the temperature to 350ºF and continue baking for an additional hour.
Stovetop Method – Place the stuffed cabbage and sauce in a large pot with a lid and bring it to a boil. Once it starts boiling, reduce the heat, cover the pot and allow the rolls to simmer for approximately 40 minutes.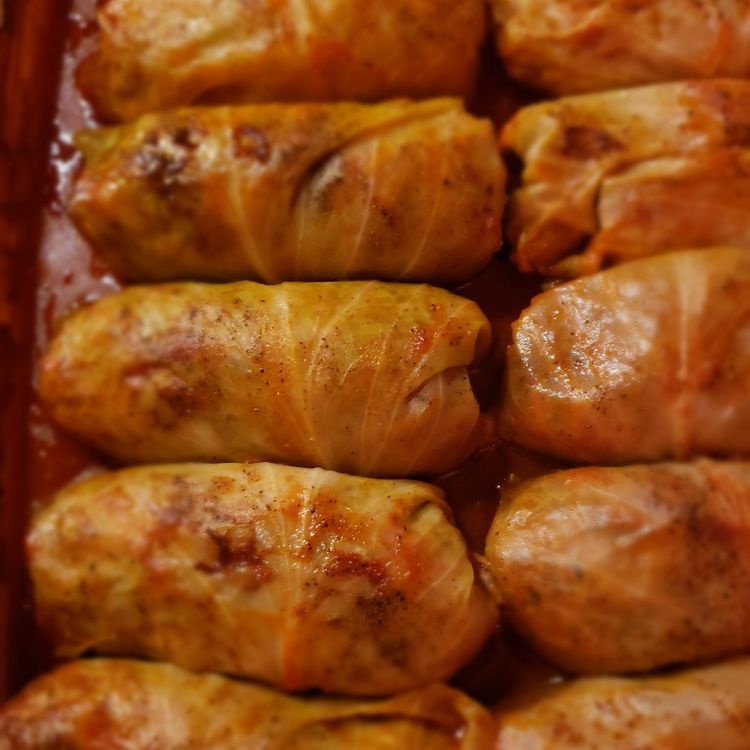 What are cabbage rolls?
Cabbage rolls are a dish made by wrapping a mixture of ground meat, rice, and spices in cabbage leaves, which are then simmered in a flavorful tomato sauce.
What is the best type of cabbage for cabbage rolls?
The best type of cabbage for cabbage rolls is green cabbage.
How do you get cabbage leaves off without breaking them?
To get cabbage leaves off without breaking them, you can first core the cabbage and then boil it in salted water with vinegar until the leaves are tender enough to remove. You can also cut the thick stem off each cabbage leaf to make it easier to roll without breaking.
Can I cut the recipe in half?
Yes, you can cut the recipe in half to make a smaller quantity of cabbage rolls. Simply adjust the ingredient measurements accordingly.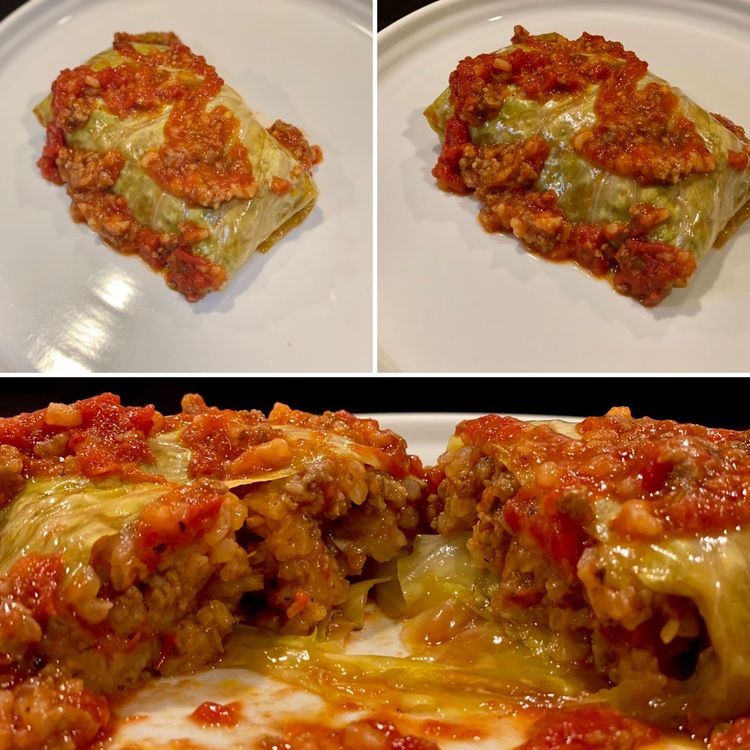 [inline_related_posts title="CHECK OUT THESE AWESOME, EASY RECIPES:" title_align="left" style="list" number="4″ align="none" ids="" by="categories" orderby="rand" order="DESC" hide_thumb="no" thumb_right="no" views="no" date="yes" grid_columns="2″ post_type="" tax=""]
I hope you relish these homemade cabbage rolls! Please share how you prefer to serve your stuffed cabbage in the comments section below.
Print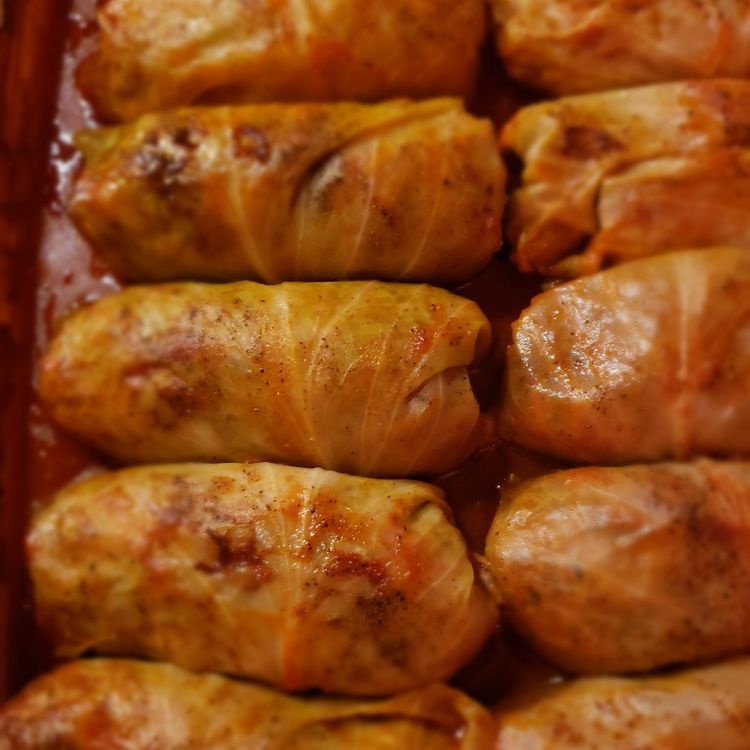 Stuffed Cabbage Rolls
---
Author:

Total Time:

1 minute

Yield:

18

people, makes 40 to 50 rolls

1

x
2 heads of cabbage
2 lbs ground beef
3 cups cooked rice
1 egg
1 tsp garlic
1 tbsp parsley
2 slices diced onion
1 –15 oz. can tomato sauce
1–28 oz. can crushed tomatoes
1/4 cup tomato sauce (in meat)
Salt & Pepper to taste
---
Instructions
Put a head of cabbage in a pot of boiling water, and peel off the cabbage leaves one at a time.
Cut off the rough part on the end of the cabbage leaf with a sharp knife.
Mix all ingredients together except the 15 oz can of tomato sauce and crushed tomatoes and put a small amount (size of a sausage) on a cabbage leaf, and roll up like a fajita and place seam side down in a casserole dish. I put tomato sauce and a cabbage leaf or 2 on the bottom of the casserole dish so the Halupky won't burn.
Pour crushed tomatoes over Halupkys.
Cover and bake approximately 75 minutes at 375º.
Turn oven down to 325º and bake for approximately 90 more minutes until cabbage is tender. Baste every hour.
Serve with tomato sauce.
Notes
To Freeze: Once cabbage rolls have cooled, transfer to freezer-safe Ziploc bags in single layers, adding a little sauce to each bag. Push out any excess air then seal and freeze.
To Reheat: Thaw in the refrigerator overnight. Add 1 Tbsp oil to a non-stick skillet, then add thawed cabbage rolls, cover, and cook over medium heat, turning a few times until heated through.
Prep Time:

2h

Cook Time:

1h30

Category:

Main Course

Cuisine:

American, Russian, Ukrainian
Nutrition
Serving Size:
Calories:

238

Sugar:

6 g

Sodium:

915.2 mg

Fat:

13.9 g

Carbohydrates:

17 g

Protein:

12.4 g

Cholesterol:

58.7 mg
Keywords: Stuffed Cabbage Rolls