Cold salads like macaroni salad make me think of picnics – specifically church picnics when I was a child. I loved them and always looked forward to checking out what everyone had brought. Sweet Amish Macaroni Salad was always my favorite and it still is my favorite and go-to when I need a quick side dish for a potluck or picnic or when I am craving it.
There is something about the blend of textures that I love – the crunchy vegetables, the tender pasta, and the soft eggs that make this recipe so delicious. This version is sweeter than traditional macaroni salad but if you prefer, you can cut back on the sugar. I always taste the dressing to make sure it is how I want it before mixing it into the salad.
I am fortunate that my family also loves this salad – although I use Miracle Whip, I do like it with mayonnaise and that is the most popular choice, so the basic recipe calls for mayonnaise. You just need to make a few adjustments to the dressing if you wish to use Miracle Whip instead of mayonnaise.
Enjoy!
NOTES:
• If you prefer a less sweet dressing, reduce the sugar to ¼ cup.
• You can reduce the amount of mustard if you prefer.
• Instead of sugar, Splenda is a great substitute.
• MIRACLE WHIP: If you wish to use Miracle Whip, you will need to reduce the amount of sugar. Sometimes, I cut out the sugar when I use Miracle Whip but always taste the dressing so you can balance the flavors before adding it to the salad.
• PICKLES: I prefer dill pickle relish but if you like sweet pickle relish better, feel free to make this switch.
• VEGETABLES: If you do not care for bell peppers, you can leave them out. Shredded carrots make a nice substitution or addition.
• Store leftovers in an airtight container in the refrigerator. It will keep up to 3 days.
Print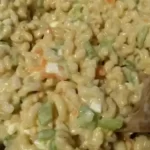 Sweet Amish Macaroni Salad
---
Salad
1 lb. salad macaroni
4 hard-boiled eggs -chopped
1 small onion – finely diced
3 celery ribs – diced small
1 small, sweet pepper – seeded and diced small (red or orange)
Dressing
2 cups light mayonnaise – If you prefer Miracle Whip, See Notes
1/2 cup sugar
1–2 Tbsp. yellow or Dijon mustard
2 Tbsp. dill pickle relish
1 Tbsp. white vinegar OR 1 Tbsp. apple cider vinegar
3/4 tsp. celery seed
1/4 tsp. salt
paprika (to garnish)
---
Instructions
Bring a large pot of water to a boil over medium heat.
Cook the macaroni according to directions. When finished, drain well, rinse with cold water, and transfer to a large bowl.
While pasta is cooking, combine the dressing ingredients and mix until well blended. Set aside.
Chop up all the vegetables and hard-boiled eggs. Set aside.
When macaroni has drained and cooled, add the vegetables and chopped hard-boiled eggs, then gently mix in the dressing.
[Add all of it if you like an extra creamy salad. If you don't like your salad extra creamy, set aside 1/2-3/4 cup of the dressing and store in the refrigerator. Keep in mind that as the salad sets it will soak up a bit of the dressing. Add some of the reserved dressing if the salad is too dry after refrigerating.]
Refrigerate for at least one hour – the longer you let it set the better the flavor.
Overnight will help the flavors develop even more.
Sprinkle paprika over the top before serving.