When I was little, there was a little diner in our small town that served the largest cinnamon rolls warmed and with a big pat of butter on top. It was a luxury to go there which means we went about once a year. However, that diner's cinnamon rolls laid the foundation for my passion of warm, soft, buttery, cinnamon baked goods that are covered in cream cheese frosting! After we moved away, my mom began making cinnamon rolls that were exceptional and even more delicious.
I carried on the tradition of making homemade cinnamon rolls, but my heart was shining when I found this recipe – it has every component of the perfect cinnamon roll but is not as finicky to prepare (cinnamon rolls are a bit labor-intensive).
I make this cake two at a time and freeze one. It is perfect for weekend breakfasts or brunches, with a cup of tea in the afternoon, or in the evening to satisfy a sweet tooth. During the holidays, I always have one available. My favorite breakfast is a piece of this cinnamon roll cake, a fried egg, and bacon. My family thinks this is a strange combination but for me, it is the perfect combination. It makes me happy! Don't forget to put a pat of butter on top of a warm piece; it is divine.
This is not a difficult recipe, and it takes little time to prepare so you need to try it. You will be happy that you did!
Enjoy!
Notes:
• Please, believe me when I suggest adding a pat of butter on a warm piece of cake. There is nothing else like it!
• Storing: Just like fresh baked cinnamon rolls, this cake is at its best fresh out of the oven – but it is still fantastic reheated. If you have leftovers, cool completely, place in an airtight container, and place in the fridge. Enjoy within 4 days.
• Freezing: To freeze the cake, allow to cool, cover with a lid or a layer of plastic wrap followed by a layer of aluminum foil. Freeze for up to 3 months. Thaw overnight in the refrigerator, remove plastic wrap, cover with the foil, and warm in an oven preheated to 350° F until warmed through. Keep an eye on the cake so it does not dry out. Alternatively, warm individual slices in the microwave. Heat in 30 second increments until warmed through.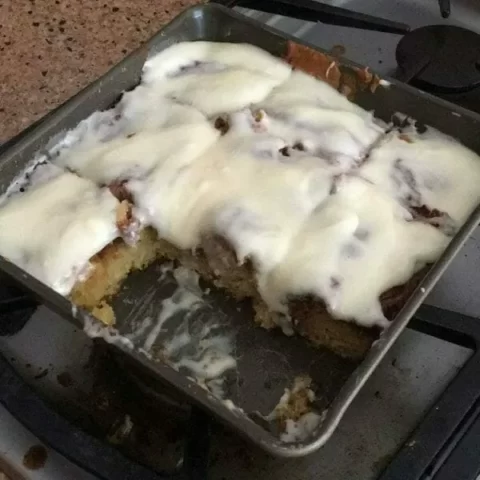 Sweet and Moist Cinnamon Roll Cake with Cream Cheese Frosting
Ingredients
The Cake:
1 ½ cups all-purpose flour ½ cup granulated sugar 2 tsp. baking powder ¼ tsp. salt ¾ cup milk 1 large egg 1 tsp. vanilla extract ¼ cup butter – melted
The Cinnamon Swirl:
½ cup butter – softened ½ cup light brown sugar – packed 1 Tbsp. all-purpose flour 1 Tbsp. ground cinnamon
The Cream Cheese Frosting:
1 cup confectioners' sugar 2 Tbsp. butter – softened 4 oz. cream cheese – softened 1-2 Tbsp. milk ½ tsp. vanilla extract
Instructions
Preheat oven to 350° F.
Grease an 8×8 baking dish with butter.
The Cake
In a large bowl combine the flour, sugar, baking powder, salt, milk, egg, and vanilla.
Stir in melted butter.
Pour mixture into prepared pan and smooth into an even layer.
The Cinnamon Swirl
In a small bowl, combine all ingredients and mix until smooth.
Using a small spoon, drop spoonful amounts of the mixture evenly over the top of the cake batter.
Use a knife to swirl through the cake and disperse the mixture throughout the cake batter.
Bake 30-35 minutes or until a toothpick inserted in the center comes out clean. Remove from oven.
While the cake is baking, prepare the Cream Cheese Frosting.
Let the cake cool about 15 minutes before drizzling the cream cheese frosting over warm cake.
The Cream Cheese Frosting
Cream the butter and cream cheese together until smooth and incorporated.
Add confectioners' sugar, vanilla, and enough milk to make a smooth, soft frosting – Begin with ½ Tbsp. milk and add more if needed.
Drizzle frosting over the cake with a spoon, or scoop frosting into Ziploc bag, snip one of the corners, and pipe the frosting over the cake.
Serve warm.
Nutrition Information:
Amount Per Serving:
Calories:

0
Total Fat:

0g
Saturated Fat:

0g
Trans Fat:

0g
Unsaturated Fat:

0g
Cholesterol:

0mg
Sodium:

0mg
Carbohydrates:

0g
Fiber:

0g
Sugar:

0g
Protein:

0g