Pecan bread is a total game changer, and this is one that can really be the perfect dessert, or even the perfect breakfast dish for those interested. You can cut yourself a piece, and you'll love the way that it tastes!
It's one that's got the perfect sweetness level where it won't feel like you're eating pure sugar, but also is one that is really tasty, and great for you to enjoy. If you want a unique recipe that'll offer you a whole new world in the kitchen, this is it, and it's a wonderful dish you won't' be able to get enough of, and one that'll surely savor those taste buds.
This is also great as well for a sweet dessert. It's not too sweet, but also offers the perfect texture you can't get enough of.
Notes:
This is a dish that's perfect for practically any occasion. If you want a nice breakfast dish that's easy to throw together, but also that's tasty and sweet for you enjoy, this is definitely one that'll do it. Plus, you can add some ice cream, and other fun additives if you want to make it sweeter.
To reserve this, you can put some cling wrap over it, and put it in the fridge, warming it up whenever you want to serve it. Alternatively, you can put this in a bread box, and so long as you use it within a week or two, it should stay nice and preserved. Cut a piece, have it, and you're good to go with this simple, yet sweet recipe that's perfect for those interested in making a nice dessert that not only is easy to serve, but also one that's tasty, and perfect for you to enjoy, no matter when it is, and whatever the occasion might be too.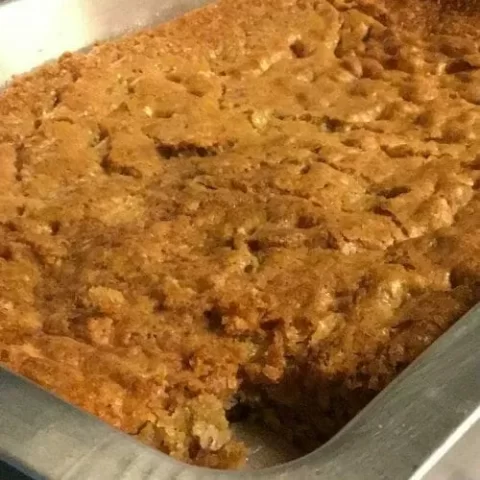 Sweet Pecan Bread
Instructions
Preheat this to 350, and then great a baking dish that's 9×13.
Using a spoon made of wood, stir together the regular white sugar, the eggs, the brown sugar, and mix it together until everything is nice and smooth.
Put the vanilla in there along with the flour, mixing all of this together, until it's mixed. Finally, take the pecans, adding all of this together until the batter has an even mixture of pecans, and the rest of the ingredients for this.
Put this not a greased pan, and from there, set this into the oven. Bake for up to 35 minutes, but it might be ready for you to take out in 30 minutes, depending on the break and where you live. If it's a higher altitude, adjust for a longer baking time.
Once this is ready, let this sit onto a cooling rack to help cool it. Then, cut up a piece, and serve it on a serving dish!
Nutrition Information:
Amount Per Serving:
Calories:

0
Total Fat:

0g
Saturated Fat:

0g
Trans Fat:

0g
Unsaturated Fat:

0g
Cholesterol:

0mg
Sodium:

0mg
Carbohydrates:

0g
Fiber:

0g
Sugar:

0g
Protein:

0g