Sweet potato casserole is a staple for Thanksgiving and Christmas in my family. But not just any sweet potato casserole – it must have the pecan streusel. It is a heated topic on whether sweet potato casserole should have marshmallow topping or a pecan streusel topping – we are a team pecan streusel family!
My daughter and I could eat the whole pan without any help, but my husband always wants it as dessert. This recipe holds a different special meaning for everyone. I admit that I do not tuck this recipe away with the "holiday" recipes because I make it any time of year. Yes, I love it that much!
This will become a part of your holiday meals and remember, you can make it any time of year!
Enjoy!
Notes:
• Sugar: If you used canned sweet potatoes, they likely have sugar. I just drain and do not add any additional sugar to the filling. If I cook the sweet potatoes, I do add a little sugar. You can adjust the sugar to your taste, I prefer the filling to be less sweet to bring out the flavor of the sweet potatoes and then the streusel provides the sweetness.
• Nuts: The traditional recipe calls for chopped pecans in the streusel. If you do not care for pecans, you can use walnuts or leave out the nuts altogether. I will say that the nuts impart a flavor to the streusel that is incredible.
• Baking Sweet Potatoes: Wash sweet potatoes and poke holes in each. Bake at 400° F for 45-60 minutes – they should be very soft. Carefully cut in half and scoop the soft insides out with a spoon.
• Prepare in Advance: Assemble up to one day before you plan to bake it. Cover the baking dish with foil and store in the fridge until you're ready to eat. Since it will be cold, you will need to add a little more bake time to compensate.
• Texture: For light and fluffy sweet potatoes, beat the sweet potatoes with a mixer. I prefer some texture so I mash by hand so there are small pieces of sweet potato left.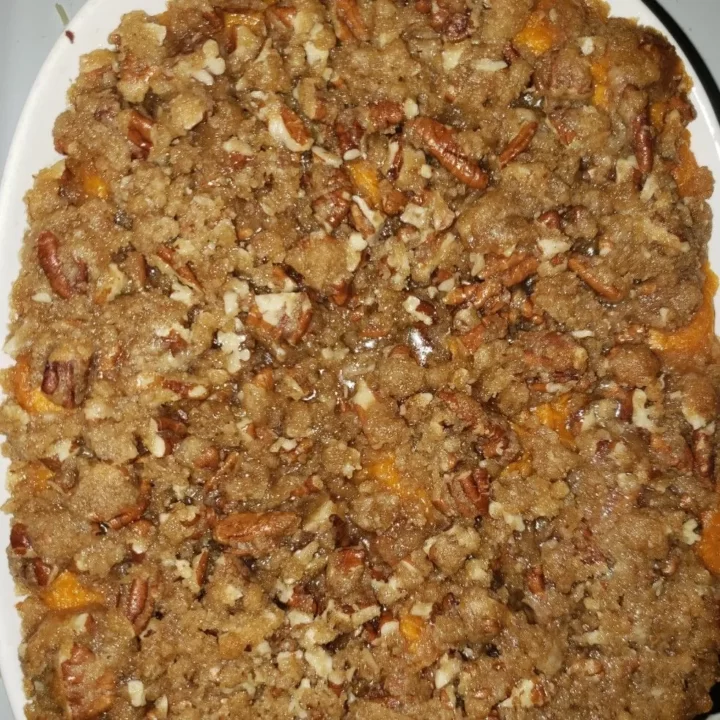 SWEET POTATO CASSEROLE
Ingredients
Sweet Potato Filling
2 (29 oz.) cans of sweet potatoes (yams) – drained or 4 cups cooked sweet potatoes – sliced or cubed ¼ cup granulated sugar – ONLY if cooking the sweet potatoes. ½ tsp. salt ½ tsp. vanilla extract 2 eggs 6 Tbsp. butter – melted
Pecan Streusel
1 cup brown sugar ⅓ cup flour 1 cup chopped pecans 6 Tbsp. butter – melted
Instructions
Preheat the oven to 350° F.
Coat a 2-quart casserole dish with butter or cooking spray.
Sweet Potato Filling
Place the sweet potatoes in a mixing bowl and either mash well by hand or use a hand mixer.
Add granulated sugar, salt, vanilla extract, eggs and 6 Tbsp. melted butter and mix well.
Spoon the sweet potato mixture into the prepared dish in an even layer.
Pecan Streusel
In a medium bowl, combine the remaining 6 Tbsp. melted butter, brown sugar, flour, and pecans. Stir well. It will be clumpy.
Sprinkle the brown sugar mixture over the sweet potatoes.
Bake for 30-40 minutes or until sweet potatoes are hot and the topping is lightly browned.
If your topping browns too quickly, you can cover your dish with foil to complete the bake time.
Remove from oven, uncover if covered with foil.
Let sit for 10 minutes, then serve.
Nutrition Information:
Amount Per Serving:
Calories:

0
Total Fat:

0g
Saturated Fat:

0g
Trans Fat:

0g
Unsaturated Fat:

0g
Cholesterol:

0mg
Sodium:

0mg
Carbohydrates:

0g
Fiber:

0g
Sugar:

0g
Protein:

0g