I can't even begin to describe how delicious this salad is! I'll try but there really are no words for it. My mind goes blank and my eyes glaze over a little when I think of it.
When you read off the ingredient list it sounds like another run-of-the-mill salad, a good one but nothing all that special.
That's where the deception lies.
You probably have everything on hand to make it right now – broccoli florets, cashews, bacon, red onion, cranberries or raisins and the easiest, tastiest 3-ingredient dressing. Mayo, apple cider vinegar and sugar. That's all.
Even though the dressing is mayo based it isn't gloppy, goopy or overly-rich. It's completely worth every fat-laden calorie.
It's slightly sweet with a subtle tang that reminds me of a cole slaw dressing, only better. 100x better.
See what I mean? The simplest of ingredients. Your taste buds will do a happy dance. Mine are still dancing.
I want you all to make this. I want you to see what I went through. . .From skeptic to seriously surprised to OMG I'm not sharing this. It's all mine, mine, MINE.
I had to fight my mother tooth and nail. In the end we were both winners because we didn't have to share with my Dad. . . the broccoli hater.
We ate all the salad.
And still we wanted more. We both had the same thought and that was why didn't you (I) make more? And can you (I)? Like right now. NOW.
I'm in way too deep. Don't dare send help.
SEND BROCCOLI! Really.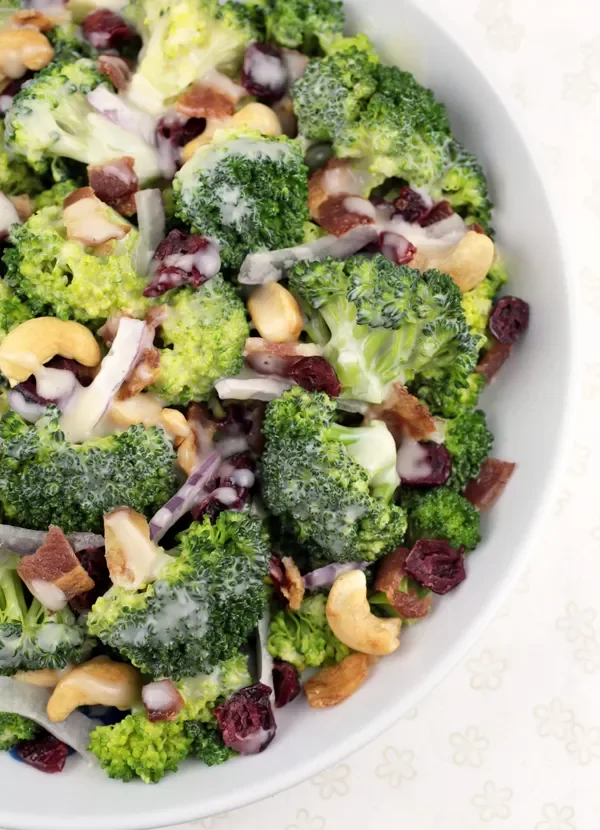 [inline_related_posts title="CHECK OUT THESE AWESOME, EASY RECIPES:" title_align="left" style="list" number="4″ align="none" ids="" by="categories" orderby="rand" order="DESC" hide_thumb="no" thumb_right="no" views="no" date="yes" grid_columns="2″ post_type="" tax=""]
Print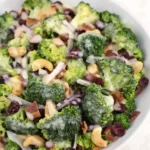 SWEET TOMATOES' BROCCOLI MADNESS SALAD
---
Author:

Total Time:

25 minutes

Yield:

4 - 6 Servings
Description
A copycat recipe for Sweet Tomatoes and Souplantations' Joan's Broccoli Madness Salad.
---
Salad:
1/2 cup cashews
1 big head broccoli
6 slices cooked, chopped bacon
1/3 cup dried cranberries or raisins
1/4 cup thinly-sliced red onion
Dressing:
1 cup mayonnaise
1/3 cup sugar
2 tablespoons apple cider vinegar
salt and pepper, to taste
---
Instructions
Preheat the oven to 350 degrees F. Add the cashews to a small baking sheet and cook 10 minutes. Toss them around halfway through. Remove from oven and cool.
Wash the broccoli and cut it or break it by hand into bite-sized florets. You can use it raw or blanch it to tenderize it slightly if you don't like raw broccoli. If using it raw dry it well with paper towels and skip to step 4.
To blanch: boil a big saucepan of water, add the broccoli and cook 2 minutes. Remove immediately with a slotted spoon and place in a big bowl of ice water to stop the cooking and cool it off. Drain well in a colander and then pat dry with paper towels.
In a large mixing bowl whisk together the mayo, sugar and vinegar until smooth.
Add the broccoli, cashews, bacon, cranberries and onion. Toss well and let it sit 10 – 15 minutes before serving. Toss again. Salt and pepper to taste.
Chill the leftovers up to 3 – 4 days.
Prep Time:

25 minutes

Category:

Main Course
Keywords: SWEET TOMATOES' BROCCOLI MADNESS SALAD