Taco Lasagna! This dish is a delightful fusion of seasoned ground beef, cheesy goodness, and the perfect balance of spice. With layers of soft tortillas, savory meat, and gooey cheese, each bite is a celebration of Mexican-inspired flavors expertly melded into an Italian classic.
Why You Should Try It:
Are you looking for a dinner option that's as easy to make as it is flavorful? Taco Lasagna is your answer! Whether you're a fan of Mexican cuisine, Italian comfort food, or just great taste in general, this dish brings everyone to the table with its irresistible aroma and bold, satisfying flavors. It's a creative twist on traditional lasagna that's sure to become a family favorite.
Exciting Story:
Picture a bustling kitchen filled with the sizzle of seasoned beef as it crisps to perfection. The air is thick with the aroma of spices and melting cheese. Layer by layer, the lasagna comes together, each ingredient carefully placed, creating a colorful mosaic of flavors. As the lasagna bakes, the anticipation builds, and when it's finally pulled from the oven, it's met with gasps of delight. The first bite is an explosion of spices and textures, a moment that transports everyone to the bustling streets of Mexico with the comfort of home.
Why This Mexican Taco Lasagna Is a Must-Try:
Our Mexican Taco Lasagna marries the essence of a vibrant taco night with the heartwarming layers of traditional lasagna. It's a fiesta for your taste buds, combining the best of both culinary worlds in a single, satisfying dish.
What Makes It Unique:
This lasagna stands out for its bold flavors, where taco seasoning, Ro*Tel diced tomatoes, and Nacho Cheese Soup mingle with seasoned ground beef. What makes it truly exceptional is how effortless it is to prepare. In just a few simple steps, you can have a gourmet-worthy meal ready to impress.
Remember it later
Like this recipe! Pin it to your favorite board NOW!
Print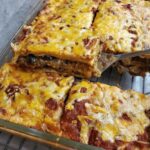 MEXICAN TACO LASAGNA
---
Author:

Total Time:

1 hour
1 pound ground beef
1 packet taco seasoning
1/4 cup water
1 can Ro*Tel diced tomatoes with chiles, drained
1 can Nacho Cheese Soup
1/4 cup sour cream
1 cup grated cheddar
12 8-inch soft tortillas
Guacamole, cilantro, sour cream for topping, as desired
---
Instructions
Preheat your oven to 350 degrees. Spray a 9×9 baking dish with non-stick spray.
In a large skillet over medium heat, cook and crumble the ground beef until browned. Drain excess grease.
Add the taco seasoning and water to the skillet. Cook for 2 minutes until the seasoning is well incorporated.
In a medium mixing bowl, combine the drained Ro*Tel tomatoes, Nacho Cheese Soup, and sour cream. Stir in the cooked beef.
Place 3 tortillas at the bottom of the prepared baking dish. Top with 1/3 of the meat mixture. Repeat layers, ending with a layer of tortillas on top. Sprinkle the grated cheddar over the top.
Bake for 20 minutes or until hot and bubbly.
Serve hot, garnished with dollops of guacamole, chopped cilantro, and extra sour cream, as desired.
Prep Time:

20 minutes

Cook Time:

40 minutes
Remember it later
Like this recipe! Pin it to your favorite board NOW!