Get ready to take your taco game to the next level with Taco Rice, a delicious fusion dish that combines the best of Mexican and Asian flavors. This unique dish originated in Okinawa, Japan, and has gained popularity worldwide for its vibrant colors, bold flavors, and satisfying textures. Join us as we explore the recipe, step-by-step instructions, and address some commonly asked questions to help you create a delightful Taco Rice experience at home.
Notes:
Feel free to add green chilis instead of jalapenos to make this dish less spicy.
You can add a dollop of sour cream over the taco rice if you want.
Print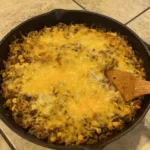 TACO RICE
---
15 oz. can of low-sodium black beans, rinsed and drained
2 tsp New Mexico chili powder
1 tsp ground cumin
14.5 oz. can fire roasted diced tomatoes with garlic
1 lb. lean ground beef
4 oz. can fire roasted diced jalapenos
1 c jasmine rice
2 c water
1 tsp smoked paprika
8 oz. Colby jack cheese, shredded
15.25 oz. can niblet corn, rinsed and drained (or 1 c frozen corn)
1 ½ tsp kosher salt, divided
1 tsp onion powder
optional garnish: fresh cilantro, chopped
1 tsp fresh ground black pepper
---
Instructions
Place a large skillet on the stove and turn the heat medium-high.
Add ground beef into the hot skillet and season with salt. Cook for a few minutes until crumbly and brown. Discard any accumulated grease.
Add another teaspoon of salt, cumin, paprika, chili powder, pepper, and onion powder. Stir everything until well incorporated.
Add rice, black beans, jalapenos, water, tomatoes, and corn. Stir until well incorporated. Allow the mixture to boil, then scrape the bottom of the skillet to get the browned bits.
Turn the heat down to low, then simmer for about 15 minutes or until the rice is soft. Remove it from the heat and sprinkle cheese on top.
Broil the Taco Rice for 2 minutes or until the cheese has melted completely. Garnish with freshly chopped cilantro.
Serve right away. Enjoy!