Get ready to kickstart your day with a hearty and satisfying breakfast treat!
"Welcome to the world of indulgent breakfasts, where Tater Tots and sausage unite in a flavorful, comforting casserole!"
Introduction:
In the realm of breakfast delights, there exists a dish that combines all the elements of a perfect morning meal: Tater Tot Sausage Breakfast Casserole. Imagine a harmonious blend of savory pork sausage, golden and crispy Tater Tots, velvety eggs, and melted cheddar cheese, all baked to perfection. This casserole is not just a dish; it's a celebration of mornings, a tribute to hearty breakfasts, and a symbol of warmth and togetherness. Join us as we embark on a culinary journey through layers of flavor, creating a breakfast masterpiece that will make your mornings brighter and your taste buds dance with joy.
Our Tater Tot Sausage Breakfast Casserole is a symphony of textures and tastes. The base of golden Tater Tots provides a satisfying crunch, complemented by the savory notes of browned pork sausage. The creamy egg mixture, infused with spices, envelops the ingredients, creating a delightful contrast in every bite. Topped with a generous layer of melted cheddar cheese, this casserole is a testament to the art of breakfast. Perfectly balanced with the richness of heavy cream, this dish embodies comfort and indulgence in equal measure. Whether you're serving it for a family brunch or making it ahead for a week of hearty breakfasts, this casserole is the epitome of breakfast perfection.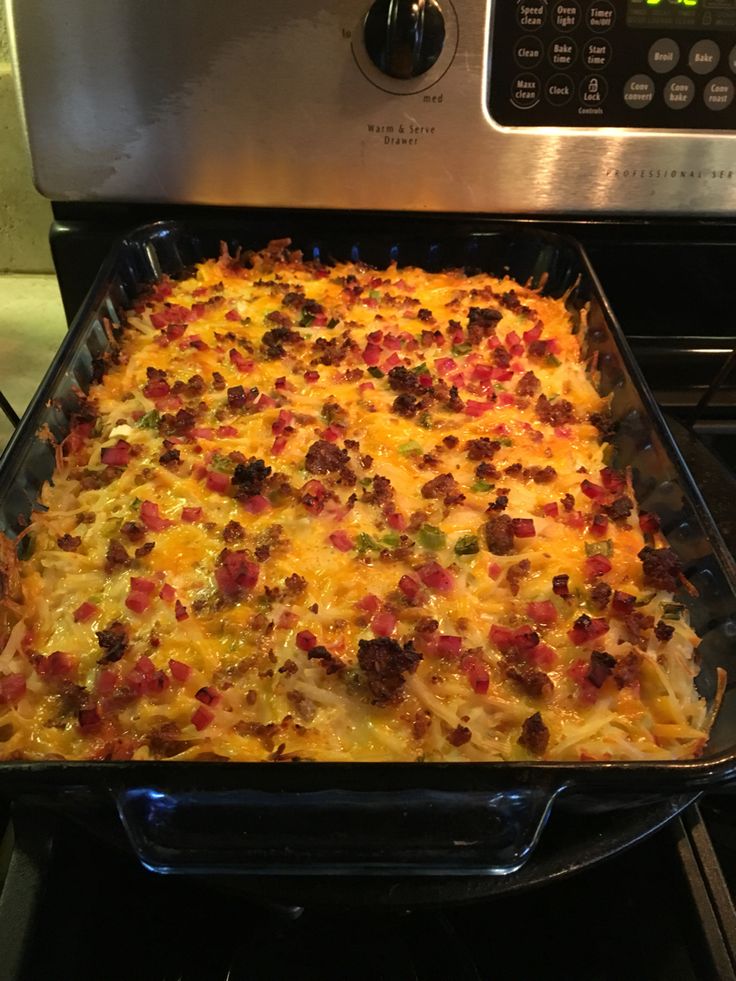 Substitutions and Variations:
Experiment with different types of cheese, such as Monterey Jack or pepper jack, for a unique flavor twist. You can also add diced bell peppers or onions to the sausage while browning for extra crunch and flavor.
Closing:
As you savor each delightful bite of our Tater Tot Sausage Breakfast Casserole, we hope it brings a touch of morning joy to your table. Share this indulgent breakfast with loved ones, and let the aroma of hearty sausage and crispy Tater Tots fill your home with warmth. Here's to mornings made better, one delicious bite at a time. Enjoy your breakfast masterpiece!
Frequently Asked Questions:
Can I prepare this casserole the night before?
Absolutely! You can assemble the casserole up to the point of baking and refrigerate it overnight. Bake it the next morning according to the instructions, adding a few extra minutes if needed due to the chilled ingredients.
 Can I use turkey sausage instead of pork sausage?
Certainly! Turkey sausage is a great lean alternative and will work wonderfully in this recipe, providing a slightly different flavor profile.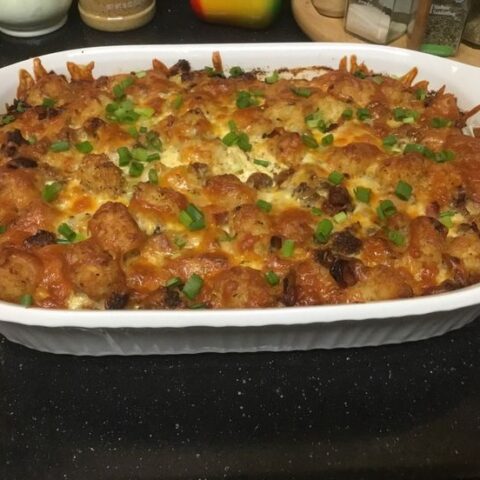 TATER TOT SAUSAGE BREAKFAST CASSEROLE
Total Time:
1 hour
15 minutes
Ingredients
8 eggs
1 pound pork sausage (Jimmy Dean or your preferred brand)
1 1/2 cups whole milk or heavy cream
1 package frozen Tater Tots (approximately 24 oz)
2 cups cheddar cheese, shredded
1 1/2 teaspoons salt
1 teaspoon black pepper
1/4 teaspoon garlic powder
Instructions
Preheat your oven to 375°F (190°C) and spray a 9x13-inch baking pan with non-stick cooking spray.
In a skillet over medium heat, brown the pork sausage, breaking it into small pieces. Drain any excess grease and set the cooked sausage aside.
In a mixing bowl, whisk together eggs, whole milk or heavy cream, salt, black pepper, and garlic powder until well combined.
Arrange frozen Tater Tots in an even layer at the bottom of the prepared baking dish.
On top of the Tater Tots, evenly distribute the precooked sausage, followed by a layer of shredded cheddar cheese.
Pour the whisked egg mixture over the layers in the baking dish.
Cover the casserole dish with foil. This prevents the edges from cooking too quickly and burning.
Bake the casserole for 40 minutes. After 40 minutes, remove the foil and continue baking for an additional 15-20 minutes or until the center of the casserole is fully cooked. Check for doneness at the 40-45 minute mark, as oven temperatures may vary.
Once cooked through, remove from the oven and let it rest for a few minutes before serving.
Serve hot, garnished with your choice of sour cream, fresh tomatoes, salsa, or crispy bacon.
Notes
For added freshness, garnish the casserole with chopped green onions or fresh herbs like parsley before serving.
Nutrition Information: (Per Serving) Calories: 420 | Carbohydrates: 19g | Protein: 16g | Fat: 31g | Fiber: 2g
Nutrition Information:
Amount Per Serving:
Calories:

0
Total Fat:

0g
Saturated Fat:

0g
Trans Fat:

0g
Unsaturated Fat:

0g
Cholesterol:

0mg
Sodium:

0mg
Carbohydrates:

0g
Fiber:

0g
Sugar:

0g
Protein:

0g