A Tennessee favorite, also another favorite that Georgia fans love, this comes with some wonderful peachy textures and flavors to it that will certainly give you a wonderful dessert taste, and also, it's quite sweet, perfect for your tastebuds. The cool thing about peach pudding is how simple it is, but you can leave this in the freezer for those instances when you want some peach pudding.
It's very easy to make, and if you live in a place where you can get peach pudding quite readily and easily, you're in luck. You can make these with fresh peaches, or from the store if that's what you're interested in doing. No matter what though, the little spices, the fresh peaches, all of this is something that you won't be able to get enough of.
Tips:
Can I keep this in the fridge when I'm done?
You can! The cool thing about this, is that you can serve this warm or chilled, and it works well for up to a week in the fridge in most cases, so you don't have to worry about it possibly affecting the way the pudding is.
Can I serve this warm or cold?
This is your decision.
Some people like the warm pudding, so they'll opt for warmer pudding, since it's a bit more hearty and savory.
If you like to have a nice, cooler treat on a hot summer day though, there is absolutely nothing stopping you from using this to make cool pudding, so it's something that comes with a versatile recipe, and one that you will definitely want to look at, and one that is worth checking out too.
Print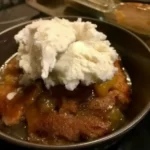 TENNESSEE PEACH PUDDING
---
Filling:
5 cups peaches, peeled and diced, fresh or frozen
2 cups all-purpose flour
1 cup sugar
1 cup whole milk
4 teaspoons baking powder
1 teaspoon sea salt
1 teaspoon cinnamon
1 teaspoon vanilla extract
1/4 teaspoon nutmeg
Topping:
3/4 cup brown sugar
3/4 cup sugar
3 tablespoons unsalted butter
3 cups water
1/2 teaspoon nutmeg
Ice cream/whipped cream/cool whip, optional, garnish
---
Instructions
Preheat your oven to 400 and from there, grease a baking dish with a nonstick spray, or with some butter.
Get a saucepan, and then over heat that's medium, whisk together the brown sugar, the sugar, along with the nutmeg, and then mix the butter in, and also include the water. Boil this, and then stir this until the sugar dissolves fully into this.
When it's all fully dissolved, you can then remove this from the heat, put it to the side.
Get a larger bowl, and from there, whisk in there the sugar, the flour, the salt, the baking soda, the nutmeg, and the cinnamon, mixing all of this until it fully combines.
Put the milk along with the vanilla extract in there, mixing it until it's fully smoothed out, and then, take your diced peaches and fold them into this whole mixture.
Take the filling and pour this directly into a baking dish that's greased. From there take the topping, and then pour this over the top.
Place this in the oven for about 50-55 minutes, keeping aluminum foil to cover this f needed. Wait until this is cooked through.
Take it out of the oven, let it sit for about 15 minutes before you serve this.