Texas roadhouse steak seasoning is a one of the very simple recipes with just few seasonings to give you that amazing flavourly taste
Texas roadhouse steak is a delicious simple recipe with just a few seasonings to make the best dry steak rub with your steak and you have the ready made delicacy on our table. I have tried this recipe over and over again, and it just seems to amaze me how perfect it tastes every time it is prepared. Steak can be a bit difficult to prepare, but this guide got you covered. You can decide to prepare the steak overnight or 40 minutes before cooking. The simplicity of the recipe is second to none, very simple and super easy to prepare. One you follow the instructions, you have the yummy big juicy steak crunching your mouth in no time.
Tips and variations:
When adding salt, you can always taste it to know if the salt tastes enough or if more is needed.
When choosing steaks for a grill, it is important that you go for the best steaks, you can go for Filet Mignon, Porterhouse, N.Y. Strip, and Ribeye steaks.
For the steak rub, you can substitute that for 4 Tbsp. Lawry's seasoning salt, 1 Tbsp. Black pepper, 1 Tbsp. Onion powder, and 1 Tbsp. Garlic salt.
You can serve your steak with different food, depending on what is best for you. You can serve this recipe with a side of Smooth and Creamy Homemade Mashed Potatoes and Brown Gravy. For my family, we take this recipe with the above-mentioned food and it just gives the perfect and yummy taste that my family love.
Prep time: 5 minutes
Cook time: 10 minutes
Total time: 15 minutes
Servings: 2 servings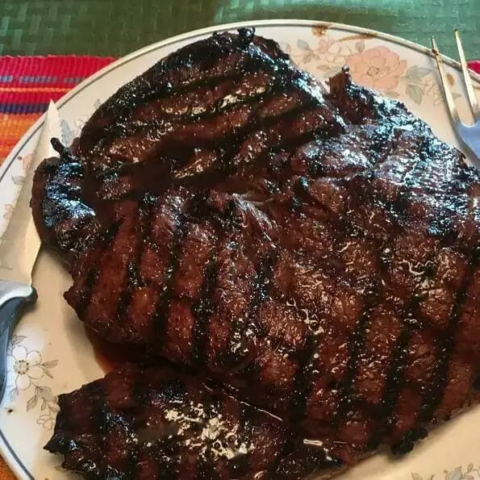 Texas Roadhouse Steak Seasoning
Ingredients
2 teaspoons coarse kosher salt
2 teaspoons brown sugar
¼ teaspoon cornstarch
½ teaspoon garlic powder
¼ teaspoon onion powder
¼ teaspoon turmeric
½ teaspoon paprika
½ teaspoon chili powder
1 teaspoon black pepper
Instructions
Step 1: 
Combine all ingredients together in a Ziploc bag and seal tightly. Shake the ingredients in the ziploc bag so as all the ingredients can combine evenly.
Step 2: 
Cover the sides of the steak with the seasoning generously and evenly, then allow it to sit for about 40 minutes, in order for the salt to penetrate through the surface and break down the muscle fibers to give a softer and tender meat.
Step 3:
After you have grilled, and it comes out nice and hot, place the steak on it and allow to cook for 4-5 minutes, until it is browned and slightly charred.
Step 4:
Flip the steak over and allow to cook for an additional time of 5 minutes for medium rare, 7 minutes for medium rare and 10 minutes for well done.
Step 5:
Once it is ready, you can serve immediately.
Notes
Nutritional facts:
Calories: 49kcal, Carbohydrates: 12g, Protein: 1g, Fat: 1g, Saturated Fat: 1g, Sodium: 5253mg, Fiber: 1g, Sugar: 8g, Vitamin A: 789IU, Iron: 1mg
Nutrition Information:
Amount Per Serving:
Calories:

0
Total Fat:

0g
Saturated Fat:

0g
Trans Fat:

0g
Unsaturated Fat:

0g
Cholesterol:

0mg
Sodium:

0mg
Carbohydrates:

0g
Fiber:

0g
Sugar:

0g
Protein:

0g