Italian Pasta Salad, a medley of vibrant colors, rich flavors, and satisfying textures. This salad is not just a dish; it's an experience. Imagine al dente rotini mingling with juicy cherry tomatoes, creamy mozzarella, and zesty salami, all bathed in a tantalizing homemade Italian dressing. It's a celebration of freshness and taste, perfect for picnics, potlucks, or any gathering where you want to impress with your culinary prowess.
Why You Should Try It:
Dive into a world of bold and delightful flavors. This Italian Pasta Salad isn't your average side dish; it's a star in its own right. The combination of pasta, succulent cherry tomatoes, tangy olives, and the kick of pepperoncini creates a harmony that will tantalize your taste buds. And let's not forget that homemade Italian dressing, the secret weapon that ties everything together in a burst of Mediterranean goodness.
Exciting Story:
Picture a sunny day, a picnic blanket spread under the shade of a big oak tree. As the family gathers, I bring out a bowl of this Italian Pasta Salad, made with love and care. The first bite elicits a chorus of delighted "oohs" and "aahs." It's become a tradition, a dish that defines our family get-togethers. My little one, initially skeptical of olives and pepperoncini, now scoops them up eagerly, savoring the diverse flavors. This salad has transformed ordinary moments into memorable ones, making our family gatherings even more special.
Why This Italian Pasta Salad Is a Game-Changer:
Flavor Explosion in Every Bite.
Our Italian Pasta Salad boasts a plethora of ingredients, each playing a vital role in the symphony of flavors. The salty punch from salami, the tangy burst of cherry tomatoes, the creamy indulgence of mozzarella – every element is carefully chosen to create a balanced, delectable experience. And the dressing? It's not just a dressing; it's a culinary masterpiece that transforms this salad into something extraordinary.
What Makes It Unique:
Handcrafted Italian Elegance.
What sets this Italian Pasta Salad apart is the attention to detail. From the careful choice of ingredients to the artful blending of the dressing, this salad is a labor of love. It's not just a dish; it's a testament to the beauty of homemade creations. Plus, the flexibility of adding fresh herbs allows you to tailor it to your unique taste, adding a touch of your own culinary flair.
Remember it later
Like this recipe! Pin it to your favorite board NOW!
Print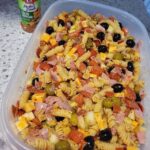 THE BEST PASTA SALAD
---
Pasta Salad Ingredients:
1

 pound uncooked pasta – I like rotini!

3 cups

 cherry tomatoes, cut in half

8 ounces

fresh mozzarella cheese balls, cut in half

1

 lb. salami or summer sausage, cut into cubes

3/4 cup

 kalamata olives, sliced

3/4 cup

 pepperoncini (optional, but do it)

1/2 cup

 sliced red onion

1/2 cup

 fresh parsley, chopped
Italian Pasta Salad Dressing:
1 1/2 cups

 olive oil

1/4 cup

 white vinegar (white vinegar or red wine vinegar work)

1/4 cup

 water

2 tablespoons

 coarse sea salt (yes, tablespoons – see notes!)

2

 cloves garlic (or 1 teaspoon garlic powder)

1 tablespoon

 sugar

2 teaspoons

each dry oregano and dry basil
black pepper to taste
fresh herbs if you want! sometimes I add fresh parsley, basil, or chives.
---
Instructions
Cook pasta according to package directions, in salted water for more flavor. Allow to cool slightly and toss with a little oil to prevent sticking.
Blend up the dressing, or shake together in a jar.
Toss all ingredients together! I like to use about three-fourths of the dressing, and then I save the rest of the dressing to add to my leftovers.
Keep in the fridge for 2-3 days. I think it actually tastes best the day AFTER you make it.
Remember it later
Like this recipe! Pin it to your favorite board NOW!