For the few people who like coleslaw, you're in for a treat with this recipe.
If you've never tried KFC before, they have a coleslaw that's famous, and its something that actually tastes amazing for a lot of reasons. It's got a rich, amazing texture that truly helps it stand out to be one of the best recipes out there, and now, you can make it from the comfort of your own home.
The beauty of this recipe is how simplistic it is. You don't have to be e genius, you just need some ingredients, and a little bit of time on your hands to make this delectable dish.
So what are you waiting for? Let's learn how to make some of the best coleslaw out there and find out just why the slaw is boss here at KFC.
Tips:
Is this really like the coleslaw from KFC?
Yes, it is. While this may not be the exact receipt that they went for, this is close enough that it tastes like the actual thing.
That's what some people love about this one, because it's something easy, simplistic, and really good for you to have.
With this recipe, you'll be able to get coleslaw right there, that's so similar to KFC, and you'll be able to brag to your friends tat yes, you have KFC coleslaw. They may ask you how you're able to do this, and well, you can say that you got it from this recipe.
What goes Well with coleslaw?
This ultimately depends on the type of person that you are.
If you're a fan of coleslaw with your chicken, that works great. Some people love it with chicken dishes, whether it's a chicken sandwich, chicken tenders, or whatever.
It also works with burgers, or any other meat item that you can make over the summer. It's considered a summer food because it's a cool food, but it's also one that's great if you're someone who does love the taste of coleslaw and wants to add it to your favorite foods as well.This amazing coleslaw will definitely make all foods taste great.
Print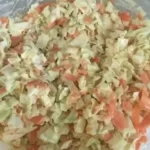 The Famous KFC Coleslaw Recipe
---
1 tbsp of finely grated onion.
⅓ cup of sugar.
½ cup of mayonnaise.
¼ cup of well shaken buttermilk.
¼ cup of whole milk.
1 ½ tbsp. of white vinegar.
2 ½ tbsp. of fresh lemon juice.
½ tsp of salt.
⅛ tsp of black pepper.
8 cups of finely diced cabbage.
¼ cup of shredded carrot.
---
Instructions
Take all of the ingredients and put them all into a large bowl, other than the cabbage the carrot.
Mix all of this together until it's smoothed out, and everything is fully combined. Once it is, then, mix in your cabbage and the carrot, stirring all of this so that it's all fully coated.
Take the mixture, and then refrigerate this in the fridge for about four or more hours at the very least.
When it's time, give it one final mix before you serve!