In the South, gravy is a staple with many meals, and it is important to know how to make excellent gravy (to go with your perfect biscuits, of course!) Gravy is said to be a food group and holds a prominent place on the "Southern" food pyramid. I laugh every time I hear someone say that!
Biscuits go hand in hand with sausage gravy, it's a given. I have known people who eat sausage gravy with a spoon. I am not judging, but I prefer biscuits with my gravy! With the recipe for the gravy, you will find the Pioneer Woman's biscuit recipe as well in case you need a biscuit recipe.
Once you make this gravy, it will be your go-to and it is easy which is always a good thing.
Enjoy!
NOTES:
• Fresh Herbs: Adding finely chopped fresh herbs is a nice addition to the gravy. Thyme, chives, and parsley are great options.
• Spices: If you want to add a bit of flair to the gravy, add your favorite spices depending on the flavor profile you desire. Paprika, smoked paprika, rosemary, sage, and cayenne are a few examples.
• Sausage: Instead of bulk sausage, you can use sausage links (with casings removed).
• Milk: 2% milk will work but anything with a lower fat content will result in thin and watery gravy. Whole milk is the best option for consistency.
• Gluten Free: Cornstarch is a common substitution for flour to thicken gravy. I have used cornstarch and it does work well. On a whim I tried Bob's Red Mill 1:1 Gluten Free Flour as a substitution for the regular flour and it was amazing. No one could tell the difference, it was not grainy or have a strange texture, and it was delicious.
Print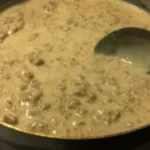 THE PIONEER WOMAN'S SAUSAGE GRAVY
---
SAUSAGE GRAVY
1 lb. Breakfast Sausage (in a roll or tube) choose whichever is your favorite
1/3 cup All-purpose Flour
3–4 cups Whole Milk
1/2 tsp. Seasoned Salt
2 tsp. Black Pepper – More to Taste if Desired
BISCUITS
3 cups All-purpose Flour
2 Tbsp. Baking Powder
1/2 tsp. Salt
1 1/2 stick (3/4 Cup) Cold Butter, Cut into Pieces
1 1/4 cups Buttermilk
---
Instructions
FOR THE SAUSAGE GRAVY
With your finger, tear small pieces of sausage and add them in a single layer to a large heavy skillet (cast iron is best).
Brown the sausage over medium-high heat until no longer pink.
Reduce the heat to medium-low.
Sprinkle on half the flour and stir so that the sausage soaks it all up, then add more flour, little by little. Stir it around and cook it for another minute or so, then pour in the milk, stirring constantly.
Cook the gravy, stirring frequently, until it thickens. (This may take 10 to 12 minutes.)
Sprinkle in the seasoned salt and pepper and continue cooking until the gravy has thickened.
If it gets too thick too soon, add small amounts of milk until the desired consistency is reached. Taste and adjust the seasoning.
Spoon the sausage gravy over warm biscuits and serve immediately!
FOR THE BISCUITS
Preheat oven to 400°F.
Lay parchment paper on 2 baking sheets.
Combine flour, baking powder, and salt in a food processor (or a large bowl).
Add the butter pieces and pulse the food processor until your butter has fully incorporated into the flour (or use a pastry cutter or your hands if using a bowl).
While pulsing (or stirring), drizzle in buttermilk until dough just comes together and is no longer crumbly.
Drop clumps of dough on two baking sheets using 2 spoons, then bake for 15-17 minutes, or until golden brown. (Optional:
Brush the biscuits with melted butter when they come out of the oven.)