Pizza Burger Pie – a culinary creation that I've come to master. This dish brings both ease and swiftness to the kitchen, crafted from a medley of flour, yeast, sour cream, mozzarella cheese, ground beef, mushrooms, and other flavorful components.
Undoubtedly, Pizza Burger Pie stands as a culinary masterpiece. My initiation into its world was during my youth, a time when culinary mysteries unfolded before me. As I watched my mother deftly prepare this dish on countless occasions, I absorbed the process like a curious observer. However, it wasn't until circumstances dictated that I assume the role of caretaker for my younger siblings in her absence that I realized the weight of the task.
With my mother away on business, the responsibility of nourishing my siblings fell to me. It was then that I summoned the memory of this recipe and ventured to recreate it. Guided by a few recalled steps and a sprinkle of courage, I embarked on the culinary journey. The experience was transformative, as the aroma of a familiar comfort meal began to waft through the kitchen.
To my astonishment, the process unfolded smoothly, and I soon stood before a perfectly executed dish. As I served the savory creation to my siblings, their delight mirrored my own sense of accomplishment. When my mother returned and witnessed the request for more, I replicated the process in her presence, and her surprise was palpable.
From that day forward, this recipe became my culinary domain. Its essence exudes comfort, and its execution became second nature to me. The fusion of a deep-dish pizza bread crust cradling the rich mixture of ground beef and Italian flavors creates a symphony of taste that transcends mere sustenance.
Ladies and gentlemen, this is the epitome of comfort cuisine. As you embark on this culinary adventure, follow these steps, and you shall savor the same delectable masterpiece that has brought joy and satisfaction to my culinary journey.
Print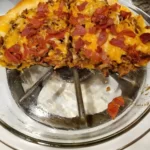 THE PIZZA BURGER PIE
---
Author:

Total Time:

35 minutes

Yield:

4

Servings

1

x
1 ½ cups all purpose flour
2 ¼ tsp active dry yeast
1 tsp sugar
½ cup sour cream
½ cup water
¼ cup shortening
1 egg
1 cup shredded mozzarella cheese
For the Filling:
1 lb ground beef
1 tsp table salt
1/4 tsp black pepper
1 Tbsp minced onion
½ tsp dry Italian seasoning
¾ cup tomato paste
4 oz canned sliced mushrooms, optional
---
Instructions
Step 1:
Prepare filling and set aside. Then combine flour, yeast, sugar and salt in a medium mixing bowl, and mix well. Heat sour cream in a saucepan over medium heat. Add water and shortening to 120-130 degrees Fahrenheit, then add to the flour mixture, and the egg. Mix by hand until it is slightly smooth.
Step 2:
Spread the mixture into a greased pie pan to make a crust. Then fill into the cust using spoons and sprinkle with cheese. Allow to bake at 375 degree Fahrenheit for about 30 to 35 minutes, or until light golden brown.
Step 3:
Remove from the heat and serve immediately. Enjoy!
Prep Time:

15 minutes

Cook Time:

20 minutes