Unstuffed Cabbage Rolls, a cherished family recipe, captures the essence of classic stuffed cabbage rolls without the fuss. With a hearty combination of ground beef, tender cabbage, and a rich tomato-based sauce, this dish brings the warmth of Grandma's kitchen to your table. It's a comforting journey into the heart of home-cooked meals, offering the same love and flavor without the complexity.
Why You'll Love This Recipe:
This Unstuffed Cabbage Rolls recipe simplifies a beloved tradition. It retains all the robust flavors and heartiness of the classic dish but in a more accessible and convenient form. Each bite is a reminder of the comforting embrace of home-cooked meals, making it a perfect choice for family dinners and gatherings.
Recipe Tips and Variations:
Rice Infusion: For a more authentic stuffed cabbage taste, add cooked rice to the mixture. This brings a delightful texture to the dish.
Vegetable Medley: Enhance the nutritional profile by adding finely chopped carrots and bell peppers along with the cabbage.
Herb Magic: Elevate the flavor with a sprinkle of fresh dill or parsley just before serving.
Why These Unstuffed Cabbage Rolls Stand Out:
Simplicity Meets Tradition: It takes the classic flavors of stuffed cabbage rolls and transforms them into an effortless, one-pan meal.
Family-Friendly: The dish appeals to all ages, making it a go-to choice for family dinners where everyone can enjoy a taste of home.
Versatile and Filling: Whether served over rice, pasta, or enjoyed on its own, this dish is satisfying and versatile.
What to Serve With This Recipe:
Pair this comforting dish with fluffy white rice, creamy mashed potatoes, or a side of crusty bread to soak up the savory sauce. A fresh green salad adds a refreshing contrast to the hearty flavors.
Remember it later
Like this recipe! Pin it to your favorite board NOW!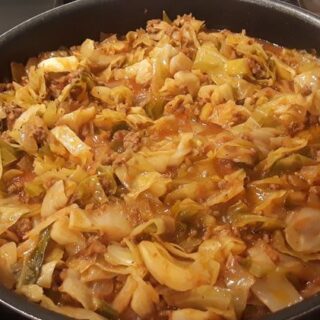 Unstuffed Cabbage Rolls Recipe
Ingredients
1 1/2 to 2 pounds lean ground beef
1 tablespoon olive oil
1 large onion, finely chopped
1 clove garlic, minced
1 small cabbage, finely chopped
2 (14.5-ounce) cans diced tomatoes
1 (8-ounce) can tomato sauce
1/2 cup water
1 teaspoon ground black pepper
1 teaspoon sea salt
Instructions
In a large skillet, heat olive oil over medium heat. Add the ground beef and chopped onion. Cook, stirring occasionally, until the ground beef is no longer pink and the onion becomes tender.
Infusing Flavor:
Add minced garlic and continue cooking for another minute, allowing the aroma to enhance the dish.
Adding the Main Ingredients:
Stir in the finely chopped cabbage, diced tomatoes, tomato sauce, water, ground black pepper, and sea salt. Mix well to combine all the flavors.
Simmering to Perfection:
Bring the mixture to a gentle boil. Reduce the heat, cover, and simmer for 20 to 30 minutes, or until the cabbage is tender and the flavors have melded beautifully.
Serving with Love:
Spoon the Unstuffed Cabbage Rolls onto plates or bowls, ensuring each serving has a generous helping of the savory tomato sauce. Serve hot, savoring the comforting aroma that fills the air.
Final Note:
Unstuffed Cabbage Rolls offer a taste of tradition with a touch of modern ease. With every spoonful, you experience the rich heritage of homemade cooking, connecting generations through the love of hearty, flavorful meals. Enjoy the warmth and simplicity of this delightful family favorite, sharing the comfort of Grandma's kitchen with your loved ones.
Nutrition Information:
Amount Per Serving:
Calories:

0
Total Fat:

0g
Saturated Fat:

0g
Trans Fat:

0g
Unsaturated Fat:

0g
Cholesterol:

0mg
Sodium:

0mg
Carbohydrates:

0g
Fiber:

0g
Sugar:

0g
Protein:

0g
Remember it later
Like this recipe! Pin it to your favorite board NOW!