This is my family's favorite chili because it is simply fantastic! Up until I tried out this recipe, when my husband and kids wanted Wendy's chili I would go through the drive through and pick up several orders. Now I don't have to make that extra stop and there is the added bonus that the house smells fantastic after the chili has been cooking to perfection in the slow cooker. It is also so easy to put together that there is no added time or hassle making it from scratch…at home!
I love making this in the slow cooker because you do not need to remember to stir it occasionally (which I forget to do). You just brown the meat, place the ingredients in the slow cooker, and set the heat level – unbelievably easy!
When I was young, I developed a love for baked potatoes topped with chili thanks to Wendy's. I still love the combination and it makes for an easy meal to prepare, pack, and reheat. If you love Wendy's chili, or just want an excellent chili recipe, this one will not disappoint!
Enjoy!
Notes:
Ground Beef Alternatives: I have made this recipe with ground turkey and ground chicken and bother turned out delicious!
Vegetarian: Substitute vegetarian crumbles for the ground beef and it is still delicious!
Beans: Sometimes I use pinto beans with jalapeños instead of plain pinto beans. Also, if you don't already have the specific beans called for in the recipe, but have other types of beans, you can substitute the whatever you have on hand. I have used Great Northern beans and they were great.
Storing: Cool any leftover chili and place in an airtight container. Refrigerate up to 5 days.
Freezing: Cool a whole batch, or any leftover chili, and place in an airtight container. Freeze for up to 3 months.
Prep Time: 10 mins | Cook Time: 8 hrs | Total Time: 8 hrs 10 mins | Yield: 12 Servings
Print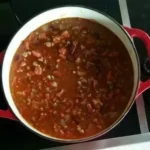 WENDY'S COPYCAT CHILI IN THE SLOW COOKER
---
Description
This recipe has always been a part of my family since I was little. I didn't realize at the time that it was like the chilli from Wendy's! I am so grateful to my grandma for sharing with me the recipe because now, I get to share it with you as well. How awesome is that? I have listed all the ingredients and directions so all you have to do is to follow them step by step and you are good to go! Yes, you are more than welcome to add more ingredients if you wish. I am sure that you can do a lot to make this recipe even better! Have a blessed day, friends. Enjoy!
---
2 lbs. ground beef – 90/10 or 93/7 (I prefer the leaner varieties.)
1 yellow onion – diced
2 stalks celery – chopped
1 green bell pepper – chopped
29 oz. canned tomato sauce
29 oz. canned kidney beans – not drained
29 oz. canned pinto beans – not drained
28 oz. canned tomatoes – chopped and not drained
1 diced jalapeño – de-seeded and de-veined (or a small can of green chilies for milder flavor)
1 Tbsp. cumin powder
¼ cup chili powder
1 tsp. black pepper
2 tsp. salt
1 cup beef broth or tomato juice
1 Tbsp. butter (Optional but makes a big difference so add it if you can!)
---
Instructions
Place a large skillet on the stove and turn the heat to medium.
Add the ground beef, then cook until crumbly and brown. Remove from heat.
Very carefully, drain the grease from the pan from browning the meat.
Transfer the browned ground beef into a 6-quart large slow cooker.
Add the rest of the ingredients (Except for the butter) into the slow cooker to the browned ground beef. Stir until well combined.
Place the cover on the slow cooker and cook for about 8 to 10 hours on the low setting or 4 to 6 hours on the high setting.
Stir in the butter and the chili is ready to serve.
Ladle into servings bowls and garnish with your preferred toppings.