This incredible chicken salad is truly the best ever. It is the perfect go-to salad for chicken salad sandwiches like croissants or on top of a lovely bed of green.
Unlike me, my husband isn't much of a foodie. But when it comes to this chicken salad, he can't quite help himself. Not a week goes by without him asking me to make this recipe for him. Of course, I usually oblige – not just because I love him so much, but because I'm also a sucker for this recipe – I can't quite help myself too!
As the name says, this is truly the best ever chicken salad. It's wonderful in sandwiches or on a bed of greens! It's so delicious that it'll leave you licking your fingers days after (I swear I didn't do it!). It's also incredibly easy to make and uses a handful of easy-to-obtain pantry ingredients.
This salad is so versatile that you could easily take off some ingredients you don't like, add others like crumbled bacon, raisins, or cashews, or even mix in a little curry powder to the mayo. The recipe remains ever delicious and is one you must try as soon as possible. I'm sure my husband will ask me to make him this by the weekend again. Can't wait to oblige his request!
Prep Time: 20 minutes
Cook Time: 50 minutes
Total Time: 1 hour 10 minutes
Servings: 10 people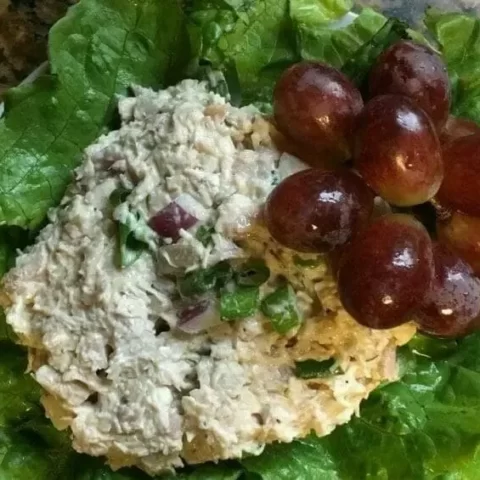 BEST EVER CHICKEN SALAD
Ingredients
4 lbs chicken parts (I typically use skin-on thighs or breasts)
2 tbsp olive oil
1 cup red and green grapes seedless, halved
1 cup almonds, thinly sliced
2 stalks celery, finely diced
3 scallions, thinly sliced (white and green parts)
2 tbsp fresh dill, chopped
1 tbsp parsley fresh, chopped
1 cup mayonnaise
1 lemon, squeezed to extract the juice
1 tbsp Dijon mustard
1 tsp Kosher salt
Freshly ground pepper
Instructions
Step 1:
Rub the olive oil all over the chicken pieces and sprinkle with salt and pepper.
Step 2:
Transfer the prepared chicken to a baking dish and then place in an oven preheated to 350 degrees, then allow to bake for 45 to 55 minutes, or until internal temp reaches 165°F using an instant-read thermometer.
Step 3:
Remove the chicken from the oven and let cool.  Remove the skin then pull the meat from the bones and roughly chop.
Step 4:
Mix together the chicken, grapes, almonds, celery, scallions, dill, & parsley in a large bowl. Then In a separate medium-sized bowl, mix together the mayonnaise, lemon juice, mustard, salt, and pepper.
Step 5:
Combine both mixtures and stir well till they mix well.
Step 6:
Cover with plastic wrap and refrigerate for at least an hour.
Step 7:
Serve on a bed of greens with sliced tomatoes and avocado.  Or, serve on bread with green leaf lettuce.
Nutrition Information:
Amount Per Serving:
Calories:

0
Total Fat:

0g
Saturated Fat:

0g
Trans Fat:

0g
Unsaturated Fat:

0g
Cholesterol:

0mg
Sodium:

0mg
Carbohydrates:

0g
Fiber:

0g
Sugar:

0g
Protein:

0g
Tips:
This salad is better served fresh, immediately after preparing it. However, you could prepare the chicken and the dressing up to 3 days in advance, then store them in the refrigerator till you're ready to combine. The salad even tastes better when the components sit in the refrigerator like this for some days.
You can use any chicken part of your choice. Even a rotisserie chicken is excellent for this recipe. But don't use canned chicken.