Let me tell you about a dish that will tantalize your taste buds—the Cajun Honey Butter Salmon. It's a delightful combination of sweetness and savory flavors that will have you craving for more. Picture this: perfectly seared Cajun salmon paired with a luscious honey garlic butter sauce. The best part? You can whip up this amazing dinner main dish in just about 15 minutes, using only one skillet. It's quick, it's delicious, and it's sure to impress. Get ready to indulge in a mouthwatering meal that hits all the right notes.
Print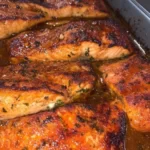 CAJUN HONEY BUTTER SALMON
---
4

salmon fillets, salted and seasoned to taste

6 tablespoons

. Unsalted butter

1/3 cup

honey
Seasoning with Cajun seasoning

2 tablespoons

garlic powder

2 tsp

. Italian season

2 tsp

. Paprika (smoked paprika, if available)
cayenne pepper (1 teaspoon)

1 teaspoon

onion powder

1 teaspoon

black pepper, cracked – or

1/2 teaspoon

black pepper, finely ground
Quarter teaspoon of salt

1/2 tsp

crush red pepper
---
Instructions
Mixing Cajun season ingredients in  bowl.
Beat butter for 2 minutes using an electric hand mixer until light and fluffy. Blend honey and cream in a blender until smooth. 1 tablespoon combined Cajun seasoning (remaining seasoning can be kept for up to 3 months in an airtight container)
Using a paper towel, pat the salmon fillets dry on all sides. Season with salt and pepper to taste after rubbing it with oil.
Cook salmon for 6-8 minutes on each side on a preheated grill or grill pan, or until opaque and crusty.
Spread a generous amount of Cajun Honey Butter over each slice after turning off the grill (or stove if you're using a grill pan).
Allow the butter to melt for 30 seconds, then spread it over the salmon using the back of a spoon. Turn it over and do the same on the other side.
If you prefer, garnish with chopped cilantro or parsley and serve immediately.
[inline_related_posts title="CHECK OUT THESE AWESOME, EASY RECIPES:" title_align="left" style="list" number="4″ align="none" ids="" by="categories" orderby="rand" order="DESC" hide_thumb="no" thumb_right="no" views="no" date="yes" grid_columns="2″ post_type="" tax=""]