Tis the season for delicious treats, and our Festive Christmas Star Twisted Bread is here to spread joy and warmth! Picture a star-shaped bread, twisted to perfection, with layers of sweet raspberry jam hidden within. This holiday masterpiece not only delights the taste buds but also adds a festive touch to your table. Let's embark on a journey of baking bliss with this delightful recipe!
Resume of the Recipe:
Our Christmas Star Twisted Bread is a symbol of holiday cheer. The soft and fluffy dough, enriched with butter and a hint of sweetness, encases a delightful layer of seedless raspberry jam. The star-shaped presentation, with its golden-brown exterior and dusting of confectioners' sugar, makes it a showstopper at any Christmas gathering.
Closing:
Our Festive Christmas Star Twisted Bread is more than a treat; it's a symbol of holiday joy. Share the magic of the season by creating this stunning bread for your loved ones. From its heavenly aroma to the delightful taste, every slice is a celebration of Christmas warmth and happiness.
Frequently Asked Questions:
Can I use a different flavor of jam?
Absolutely! Experiment with your favorite jams or preserves to create unique flavor combinations.
Can I make this ahead of time?
Yes, you can prepare the dough and assemble the bread in advance. Refrigerate it overnight and bake it on the day you plan to serve it.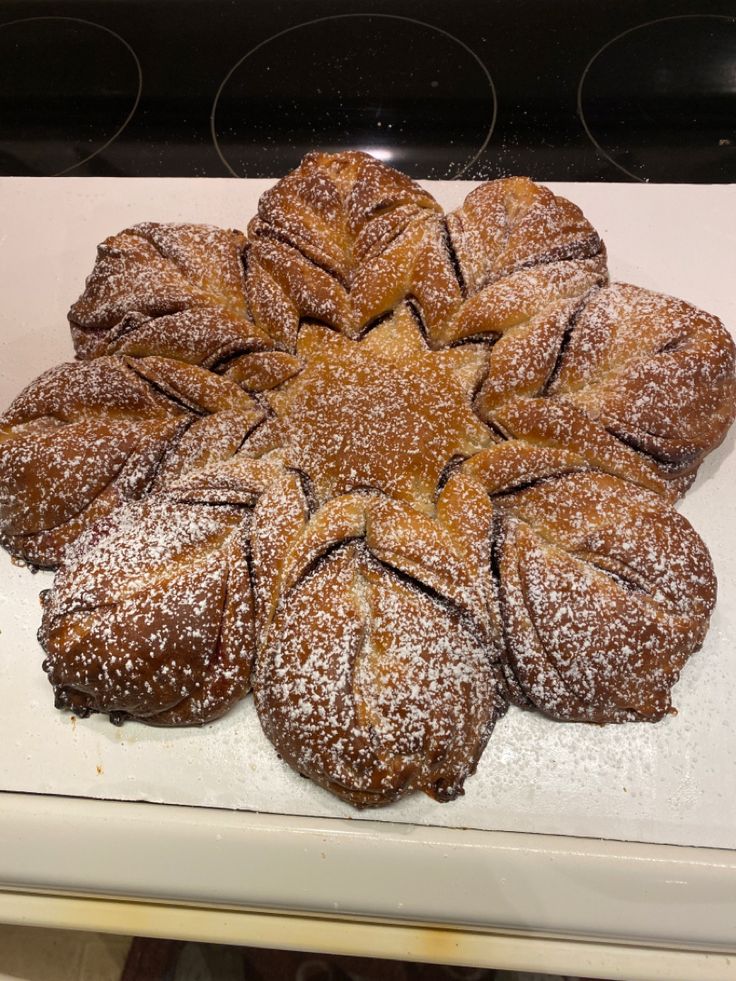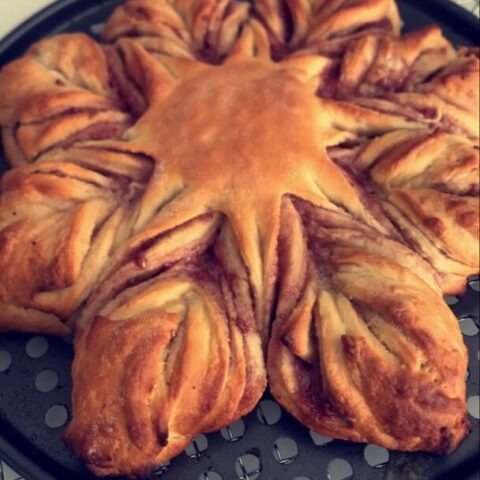 Christmas Star Twisted Bread
Cook Time:
1 hour
30 minutes
Ingredients
1 package (1/4 ounce) active dry yeast
1/4 cup warm water (110° to 115°)
3/4 cup warm 2% milk (110° to 115°)
1 large egg, room temperature
1/4 cup butter, softened
1/4 cup sugar
1 teaspoon salt
3-1/4 to 3-3/4 cups all-purpose flour
3/4 cup seedless raspberry jam
2 tablespoons butter, melted
Confectioners' sugar
Instructions
Dissolve yeast in warm water until foamy. In another bowl, combine milk, egg, softened butter, sugar, and salt. Add yeast mixture and 3 cups flour. Beat on medium speed until smooth, about 1 minute. Stir in enough remaining flour to form a soft dough.
Turn the dough onto a floured surface; knead until smooth and elastic, 6-8 minutes. Place in a greased bowl, turning once to grease the top. Cover and let rise in a warm place until doubled, about 1 hour.
Punch down the dough. Turn it onto a lightly floured surface; divide it into 4 portions. Roll 1 portion into a 12-in. circle. Place on a greased 14-in. pizza pan. Spread with one-third of the jam, leaving a 1/2-inch border. Repeat twice, layering dough and jam, and end with the final portion of dough.
Place a 2-1/2-in. round cutter on top of the dough in the center of the circle (do not press down). With a sharp knife, make 16 evenly spaced cuts from the round cutter to the edge of the dough, forming a starburst. Remove the cutter; grasp 2 adjacent strips and rotate twice outward. Pinch ends together. Repeat with remaining strips.
Cover and let rise until almost doubled, about 30 minutes. Preheat the oven to 375°F. Bake until golden brown, 18-22 minutes. (Watch during the final 5 minutes for any dripping.) Remove from the oven; brush with melted butter, avoiding areas where jam is visible. Cool completely on a wire rack. Dust with confectioners' sugar.
Notes
For an extra festive touch, sprinkle holiday-themed sprinkles on top of the confectioners' sugar.
Serve with a side of whipped cream or vanilla ice cream for a delightful dessert.
Nutrition Information:
Amount Per Serving:
Calories:

0
Total Fat:

0g
Saturated Fat:

0g
Trans Fat:

0g
Unsaturated Fat:

0g
Cholesterol:

0mg
Sodium:

0mg
Carbohydrates:

0g
Fiber:

0g
Sugar:

0g
Protein:

0g