Prepare your taste buds for a guilt-free chocolate extravaganza with our Decadent Chocolate Weight Watchers Muffins! These delectable treats are a celebration of flavor and health-conscious baking. Crafted from a chocolate cake mix, a hint of vanilla yogurt, and a touch of water, these muffins prove that you can have your cake and eat it too – without compromising your health goals. Perfect for satisfying your chocolate cravings without the guilt, these muffins redefine the joy of low-calorie indulgence.
Why You Should Try It:
Craving chocolate but keeping an eye on your calorie intake? Look no further! These Chocolate Weight Watchers Muffins are your guilt-free ticket to chocolate bliss. With a moist, chocolatey crumb and just the right amount of sweetness, these muffins are a testament to the fact that you can indulge sensibly without sacrificing taste. Say goodbye to guilt and hello to chocolate heaven!
Exciting Story:
Imagine a cozy evening, the aroma of freshly baked chocolate muffins filling the air. As these Chocolate Weight Watchers Muffins emerge from the oven, they captivate everyone with their rich aroma and tempting appearance. The first bite reveals a velvety texture and a burst of chocolate goodness. It's a moment of pure bliss, a reminder that you can enjoy the flavors you love without the guilt – a culinary triumph that sparks joy in every bite.
Why These Chocolate Weight Watchers Muffins Are a Must-Try:
Low-Calorie Indulgence.
These muffins redefine indulgence with their low-calorie profile. Packed with the goodness of chocolate and the subtle sweetness of vanilla yogurt, they offer a guilt-free treat that satisfies your chocolate cravings without the calorie overload.
What Makes Them Unique:
Sensible Indulgence.
What sets these Chocolate Weight Watchers Muffins apart is their sensible approach to indulgence. By carefully balancing flavors and using health-conscious ingredients, these muffins deliver a delightful chocolate experience without the excess calories. It's a smart choice for those who want to savor every bite without the worry of breaking their calorie bank.
Remember it later
Like this recipe! Pin it to your favorite board NOW!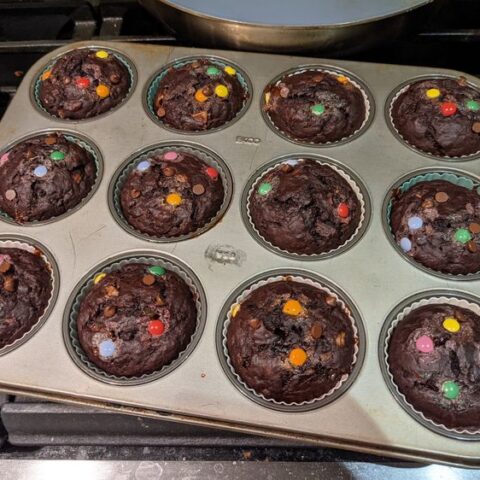 Easy Weight Watchers 3 Ingredient Chocolate Muffins
Ingredients
1 Box Chocolate Cake Mix
1/4 Cup 100 Calorie Greek Vanilla Yogurt
1 Cup of Water
Instructions
Preheat your oven to 350 degrees.
In a bowl, whisk together your yogurt and water until well combined.
Add the dry cake mix to the yogurt mixture. Do not use any other ingredients mentioned on the cake mix box.
Take a paper towel and moisten it with vegetable oil. Use the greased paper towel to coat the muffin pan, ensuring the muffins will easily pop out after baking.
Using a cookie scoop, fill the baking cups halfway. Keep in mind that these muffins rise generously during baking.
Bake for about 15-22 minutes, depending on your oven. To check for doneness, insert a toothpick into the center of a muffin; if it comes out clean, the muffins are ready.
Serve and enjoy these guilt-free delights!
Notes
Nutrition Information (per serving - 40g):
Calories: 47kcal
Carbohydrates: 8g
Protein: 1g
Fat: 2g
Saturated Fat: 0.4g
Polyunsaturated Fat: 1g
Monounsaturated Fat: 1g
Cholesterol: 0.1mg
Sodium: 90mg
Potassium: 37mg
Fiber: 0.3g
Sugar: 4g
Vitamin A: 0.4IU
Calcium: 18mg
Iron: 0.5mg
Nutrition Information:
Amount Per Serving:
Calories:

0
Total Fat:

0g
Saturated Fat:

0g
Trans Fat:

0g
Unsaturated Fat:

0g
Cholesterol:

0mg
Sodium:

0mg
Carbohydrates:

0g
Fiber:

0g
Sugar:

0g
Protein:

0g
Remember it later
Like this recipe! Pin it to your favorite board NOW!