It is no secret that I have a love for meatloaf that stems from my childhood and that I get cravings for it quite often. Full transparency – I made it for dinner last night (with cheese grits and sautéed green beans!)
It is comforting, delicious, easy, leftovers are superb, and the whole family loves it too. This recipe is unlike most, and when I had it at Cracker Barrel the first time, I was amazed and so happy!
Next time I make this, likely it will be soon, I am going to make fried apples and hash brown casserole. It will feel like we are eating at Cracker Barrel! If you have ever had Cracker Barrel's fried apples and hash brown casserole, you know the magic!
I hope you enjoy this Meatloaf recipe as much as I do and if you have never been to a Cracker Barrel, you must stop if you ever come across one – which you will once you enter the South!
Notes:
• Pan: I use a baking sheet because if you use a loaf pan, the steam cannot escape, and the meatloaf turns brick-like. Using a baking sheet – or a baking dish with room around the meatloaf – will give you the best meatloaf.
• Freezing: Meatloaf freezes well and if you double the recipe and freeze the second one, you will have quick meals for those nights you just do not want to cook or when you want a meatloaf sandwich for lunch! Let the meatloaf cool and leave whole or cut the loaf into slices, place in an airtight container or wrap in foil and place in a Ziploc freezer bag. It will keep in the freezer up to 3 months.
• Reheating from Frozen: When you are ready to have the meatloaf – Preheat oven to 350° F, take meatloaf out of the freezer, remove from Ziploc bag and foil, and place in a baking dish and loosely cover with foil. Place it in the oven for about 20 to 30 minutes or until hot and heated through. You don't want to overheat it or the meatloaf will be dry. To avoid this, you can add ¼ cup of beef broth in the bottom of the baking dish before putting in the oven.
• Microwaving after Freezing: Let the meatloaf thaw in the refrigerator overnight. Reheat slices in the microwave at 50% power until heated through. I microwave for 1 minute at first and then in 30 second intervals until heated through.
• Glaze: I double or triple this recipe and store in the fridge. It is nice to have the glaze already prepared! Alternatively, you can use Chili Sauce which is what my mother always used and what I have used my entire adult life – Except when I make this recipe!
Print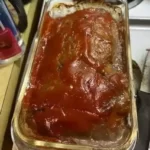 Cracker Barrel Meatloaf
---
The Meatloaf
2 lbs. lean ground beef (80/20 is the best for juicy meatloaf)
1 small onion – finely diced
½ cup bell pepper – finely diced (optional)
1½ sleeves of Ritz crackers (48 crackers total) – finely crushed
4 oz. shredded cheese – sharp cheddar or Colby cheese
3 eggs
½ cup milk
1 tsp. salt
¼ tsp. black pepper
The Glaze
½ to ¾ cup ketchup
2 Tbsp. brown sugar
1 tsp. mustard
---
Instructions
Preheat oven to 350° F.
Make the Glaze
In a small bowl, combine the ketchup, brown sugar, and mustard. Set aside.
Make the Meatloaf
In a large bowl, combine the eggs, crushed Ritz crackers, cheese, milk, onion, bell pepper, salt, and black pepper. Mix well.
Add in the ground beef. Mix well just to combine. Do not over mix.
Form into a loaf and place inside a baking pan or baking sheet lined with foil or parchment paper.
Bake in preheated oven for 30 minutes.
Remove from the oven and spread the glaze over the meatloaf.
Return to the oven and bake for an additional 30 to 40 minutes or until the temperature in the center is 160° F.
Remove from oven and let it rest for 15 minutes before serving.
Enjoy!