I had never heard of these crackers until I went to a new book club, and I was captivated by their deliciousness! When I asked for the recipe, I was shocked at how easy and quick these are to make. I always have saltines on hand and sometimes my family complains that we never have crackers with flavor – we do but they eat them so quickly and I can't keep up!
This is the perfect solution. These are great to pack for snacks, for watching a game, a movie, or anytime you want to have delicious crackers in a matter of minutes!
Personally, I like to bake mine because I like the toasted flavor but either way is wonderful. I like to get creative and change the flavors and sometimes I use oyster crackers because they are fantastic and are easier to eat when around others! I think Ranch and dill is my favorite but sometimes I add dill to the regular recipe for super-powered flavor. Make a few different kinds and see which ones are your family's favorite.
Enjoy!
Notes:
• Shake and Bake: Place the buttered crackers in a zipper bag or paper bag and add the seasoning. Shake to coat the crackers. Be careful not to break them!
• Double Recipe: This is a great recipe for a crowd. Simply increase the ingredients proportionately and bake in batches.
• Different Flavors: Feel free to try new flavors.
Switch out the Ranch dressing mix for Italian dry mix.
Swap the garlic powder for cumin and chili powder.
Switch out the garlic powder and red pepper flakes for dill (it goes great with the Ranch dressing!)
Either add some lemon pepper or leave out the garlic powder and/or red pepper flakes for a serious flavor boost.
• Substitute oyster crackers for saltines for a fantastic bite-sized snack.
• No Bake: Substitute olive oil for the butter. Put olive oil in a small saucepan, add the desired spices, and whisk until the olive oil is warm – not hot. Put the crackers in a bowl (not a plastic bag) and stir until coated. Store in an airtight container. If you use butter for the no bake method, the crackers are a bit too greasy.
• When you can, let them sit for 24 hours so the flavors soak in and are extra delicious.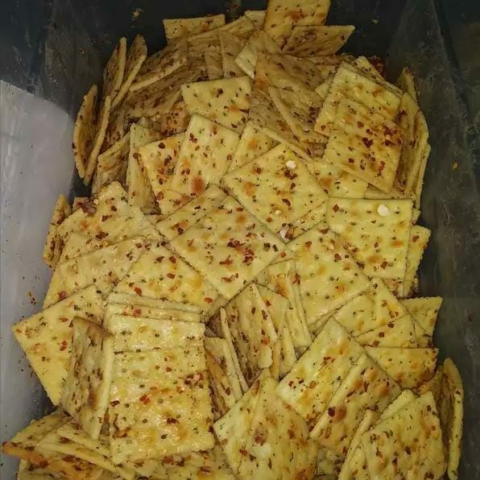 CRACKER SHAKE
Ingredients
16 oz. Saltine crackers
8 Tbsp. butter melted
1 package Ranch salad dressing mix (1 oz.)
1 tsp. red pepper flakes
1 tsp. garlic powder
Instructions
Preheat oven to 300°F.
Place melted butter in a large bowl.
Add crackers and gently toss ensuring that every cracker is coated.
In a small bowl, combine Ranch salad dressing mix, red pepper flakes, and garlic powder. Stir to combine.
Sprinkle dressing mixture over crackers ensuring that each cracker is coated.
Spread crackers in an even layer on a rimmed baking sheet.
Bake for 10-15 minutes.
Cool completely before serving.
Store in an airtight container.
Nutrition Information:
Amount Per Serving:
Calories:

0
Total Fat:

0g
Saturated Fat:

0g
Trans Fat:

0g
Unsaturated Fat:

0g
Cholesterol:

0mg
Sodium:

0mg
Carbohydrates:

0g
Fiber:

0g
Sugar:

0g
Protein:

0g