Crispy Coconut Chicken Tenders, a delightful twist on the classic chicken tenders recipe. These tender and juicy chicken strips are coated in a crunchy coconut crust, delivering a burst of tropical flavors with every bite. Whether you're looking for a family-friendly dinner or a crowd-pleasing appetizer, these coconut chicken tenders are sure to impress. Join us as we explore the recipe, step-by-step instructions, and answer some commonly asked questions to help you create this mouthwatering dish in your own kitchen.
Notes:
To Bake:
Prepare the oven and preheat to 425 degrees F.
Line a baking sheet with parchment paper.
Arrange the coated chicken tenders onto the prepared baking sheet in a single layer.
Place the sheet in the preheated oven and bake the chicken for about 15 minutes or until done.
Remove from the oven and serve!
Prep Time: 15 mins | Cook Time: 15 mins | Total Time: 30 mins | Yield: 4 Servings
Print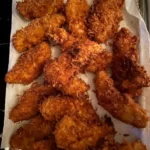 CRISPY COCONUT CHICKEN TENDERS
---
Oil for frying
¼ tsp pepper
2 tbsp water – or milk
2 Eggs
½ tsp salt
⅔ c shredded sweetened coconut flakes
sweet chili sauce – for serving
½ tsp chili powder
1 lb. chicken tenderloins – or chicken breasts, cut into strips
½ c flour
sea salt flakes – for garnish, optional
⅔ c panko bread crumbs
---
Instructions
For the Coating:
1st Bowl: Mix flour, chili powder, salt, and pepper.
2nd Bowl: Mix water/milk and eggs.
3rd Bowl: Add coconut flakes.
4th Bowl: Add panko breadcrumbs.
For the Chicken:
Add each chicken piece into each bowl. Flour mixture, egg wash, coconut flakes, and breadcrumbs. Make sure to coat each well and shake off any excess.
Place a large skillet on the stove and turn the heat to medium-high. Add about 1-inch of oil just enough to deep fry the chicken and allow it to become hot.
Add the coated chicken pieces into the hot skillet, then cook each side for about 3 minutes or until they turn golden brown.
Remove the chicken from the skillet and place them onto a clean plate lined with paper towels to drain excess oil.
Sprinkle sea salt flakes over the chicken tenders to add more taste.
Serve right away with sweet chili sauce. Enjoy!
Notes
Nutrition Facts:
Calories: 352 kcal | Carbohydrates: 23 g | Protein: 31 g | Fat: 15 g | Saturated Fat: 10 g | Trans Fat: 1 g | Cholesterol: 154 mg | Sodium: 537 mg | Potassium: 570 mg | Fiber: 3 g | Sugar: 2 g | Vitamin A: 228 IU | Vitamin C: 2 mg | Calcium: 44 mg | Iron: 3 mg